From 1 to 6 May will take place the second event of the outdoor season 2023.
Catez (SLO) is ready for the 1st leg of European Youth Cup 2023.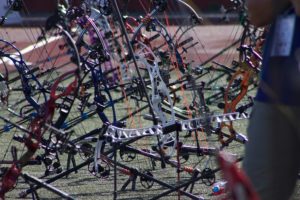 24 countries: 23 european Nations + Azerbaijan
229 young archers of Under 18 and Under 21, Compound and Recurve divisions. With 28 competitors Italy is the most numerous, followed by Israel (18) and Poland (16).
Official competition will run from 2nd, with Qualification Rounds, to 6th of May, with all the Individual Medal Matches.
20 titles up for grabs in this stage (individual, team and mixed team), but don't forget that only at the end of 2nd leg in Sion (SUI), June 5-10, we will know the final winners of this year Circuit, Individuals and the best Nation.
How to follow Catez?!
LIVE RESULTS on IANSEO.NET
VIDEO/LIVE STREAMING on WAE Youtube (more info to follow)
Don't forget to use the hashtag #EYC2023 to share the event.