2015 World Cup Final Champion Miguel Alvarino Garcia has won gold in the recurve men's individual event at the first stage of the 2022 Hyundai Archery World Cup.
World n.15 Alvarino, who seeded second in qualification, breezed past Australia's Ryan Tyack, shooting just nine arrows on his way to a 6-0 victory – his first gold in 24 World Cup stage appearances.
I've been working hard to win a medal like this for years and I showed my best in the final. I will try to raise my performance and keep the levels consistent for the rest of the season so we will see where that goes.
I've always wanted to beat him. I've shot against him before and lost twice so to win it was amazing. I've always looked to him as a reference for how to be a successful archer.
said Alvarino.
Tyack also had extra cause to celebrate, the silver was his first-ever individual medal in 22 World Cup appearances.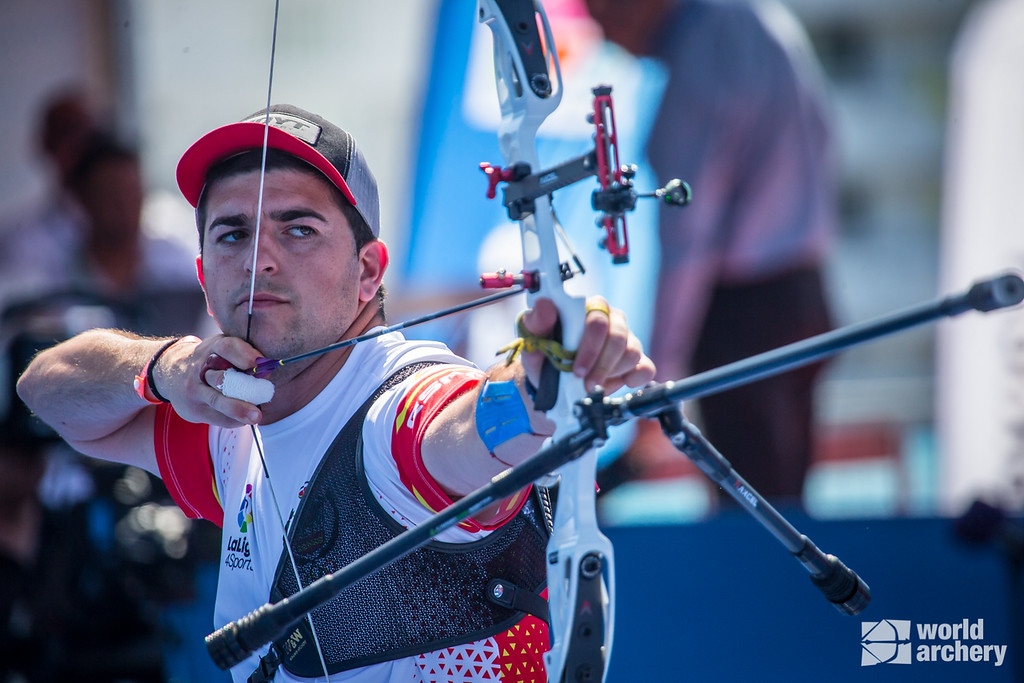 The result means Alvarino who won the 2015 title in Mexico City, has booked his ticket through to another World Cup Final in Mexico, when the 2022 circuit concludes in Tlaxcala in October.
Both archers had made the final after defeating the two top-ranked recurves in the world – Brady Ellison and Mete Gazoz – in their respective semifinals. Tyack seeing over Gazoz 6-4 and Alvarino winning a tiebreak 10-9 against Ellison.
The USA archer would go on to grab his second bronze of the day, defeating Gazoz 7-3 in the match for third place, which came after he took third spot in the mixed team event this morning.
For Gazoz, he looked at the positives in a week where was desperate to medal on home soil but came away empty-handed.
"It was a good competition for me, but of course I want to win," he said. "Fourth place is not a bad place for the first tournament of the season, I'm maybe happy, but I'm not sure yet. I won't think about this week too much. I can shoot better than I have done, I know that, but I'm ready for the second stage of the World Cup."
Recurve men's individual
1. Miguel Alvarino Garcia (ESP)
2. Ryan Tyack (AUS)
3. Brady Ellison (USA)
—
Britain's Bryony Pitman has had a breakthrough day in Antalya at the first stage of the 2022 Hyundai Archery World Cup, winning recurve women's individual gold to make it a trio of medals following her recurve women's team gold and mixed team silver won this morning.
Her individual final, against Laura van der Winkel, went down to a tiebreak after Pitman had overcome a 6 and 5 in early sets and a 2-4 set deficit to draw level at 5-5 in the fifth.
And with Pitman shooting second in the shoot-off the opportunity was left for her to claim her ticket to the World Cup Final in Mexico later this year after the Dutch shooter shot an 8, but with nerves racing, Pitman also shot an 8, but was closer and with it, the title was won.
It's just the perfect way to end today, this week. I'm shaking so much. It was a tough match but I am really proud of how I shot out there, I let a couple of shots go but I'm so happy.
I was just trying to shoot a good shot. I know after the last set I had been putting in some really good shots and they were going in the middle so it was just a case of knowing that the door was open and knowing that I just needed to shoot a good shot and hope for the best.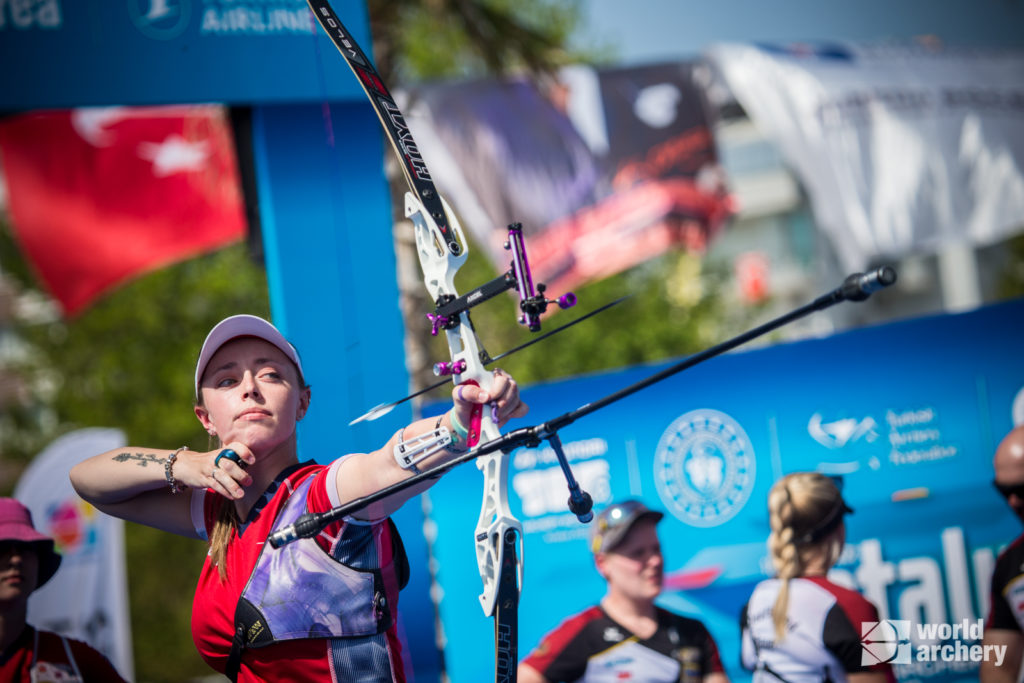 The result capped off a successful week for the British squad in Antalya, which has been rejigged for the new season and Pitman was in no doubt that a medal would be taken home to the UK, but not so many for her personally.
"I certainly expected and knew that we (Great Britain) had the potential to be on the podium at least once this weekend," she said. "I knew I had an individual capability of making the top eight, but to be going away with three medals and two of them gold is just insane."
"Hopefully, this is the start of putting Great Britain back on the podium regularly."
In the all-German bronze match Katharina Bauer medalled for the fourth time this month in Antalya, defeating teammate Charline Schwarz 6-2. Bauer had won all three of her events at the Antalya warm-up in early April.
Recurve women's individual
1. Bryony Pitman (GBR)
2. Laura van der Winkel (NED)
3. Katharina Bauer (GER)
—
Great Britain's Ella Gibson and Netherlands' Mike Schloesser have won compound individual gold.
Their podium-topping performances ensures their direct qualification through to Tlaxcala, Mexico for the World Cup Final in October.
Gibson became the first British archer in 10 years to reach a World Cup stage final and first in 12 years to win individual gold when she defeated 2013 World Cup Final Champion Alejandra Usquiano, 147-145.
The win was also Gibson's first-ever World Cup stage victory.
It's amazing, I still can't really believe it if I'm honest. It wasn't in my plans for this year. I was thinking if it happens, great, if it doesn't, then it doesn't.
I did not expect to get there (World Cup Final) after one stage that's for sure. I thought if I were to qualify then I would scrape through with decent performances from all the World Cups rather than just one stage, but I'm happy it turned out this way instead.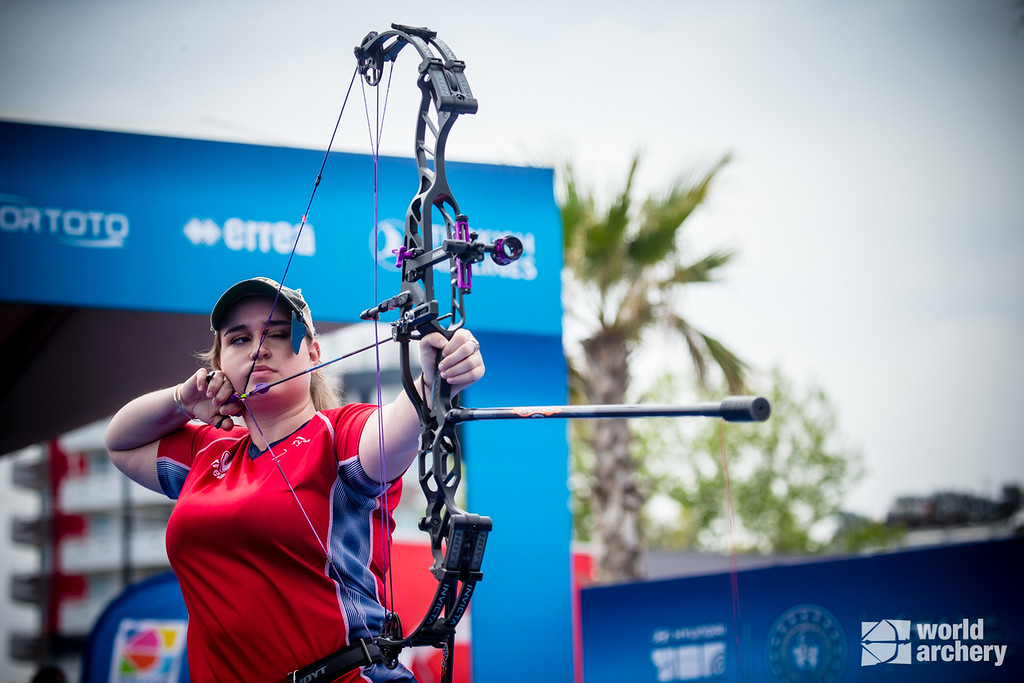 Estonia's Lisell Jaatma defeated Chinese Taipei's Chen Yi-Hsuan (149-146) in their third-place clash, to record her second bronze of Antalya 2022 following her compound women's team medal earlier this week.
"Two bronzes is pretty good," she said directly after her individual victory. "Those two are my first medals so to get them here for the first time is really special. It means so much. I haven't spoken to anyone yet but I know everyone will be really happy. My mum is here so I can't wait to tell my dad back home."
Compound women's individual
1. Ella Gibson (GBR)
2. Alejandra Usquiano (COL)
3. Lisell Jaatma (EST)
—
Schloesser, reigning World Cup Champion and world number one, defeated Adrien Gontier 148-142 in the compound men's individual final and shows no signs of slowing down his form from last year.
In 2021 he seeded top and finished with a medal in all three Hyundai Archery World Cup stages and at the very first time of asking in 2022, reminded his competitors of his intent, seeding top – and now winning – in Antalya.
It's very important to start off at the right pace for the season. I've been putting a lot of hard work in and seeing it pay off definitely means a lot. The level I shot today was way more than (I did in) the elimination matches, and I was happy to see that level come out today.
I always want to defend my title and to get that ticket at the first stage is very relieving and satisfying.
It will not come as a relief for the French pair of Gontier and bronze medallist Jean Philippe Boulch, who Schloesser also beat, with the defeated Gontier admitting divine intervention may be the only way to knock 'Mr Perfect' off the top.
"Against Mike you know you have to hit around 150 and pray a little bit," said Gontier about losing the final. "It is disappointing to lose, but it is still a silver medal which I'm very happy with."
Competition in Antalya continues and concludes tomorrow with the team and individual recurve medal matches which can be watched through a variety of different ways.

Compound men's individual
1. Mike Schloesser (NED)
2. Adrien Gontier (FRA)
3. Jean Philippe Boulch (FRA)
—
articles and pictures by World Archery