The British women beat Belarus and the French men defeated the Netherlands in the finals.
Great Britain won the recurve women's and France took the recurve men's team gold medals at the 2019 European Games in Minsk. It is Britain's first archery medal at a multisport event since the Commonwealth Games in 2010.
"It was good fun. We were just enjoying it, I think. The fact that we're enjoying it and we're used to being on the stage now; of course it's going to help us relax, help us shoot our shots and get on with it," said Sarah Bettles, whose team defeated hosts Belarus, 6-2. 
Belarus had qualified second on the back of strong shooting from youngest team member Karyna Kazlouskaya. The Belorussians saw off Ukraine before beating a below-par Germany.
In the final, Britain opened strong but came apart in the second set. Belarus didn't produce the form and grit the team had shown in Minsk – and when the women secured Olympic spots at the worlds.
"It was really good, but I know what we must do for the gold medal. We will work hard and train hard," said Kazlouskaya. "I'm proud of my team and I know we are the best. Next time, we will take first place."
"It gives us good confidence going into next year, especially as this format is exactly the same [as the Olympics]. We have the test event in a couple of weeks, too. It's another opportunity to prove ourselves and test ourselves at the same time," said Bryony Pitman.
Denmark defeated Germany in a shoot-off for the bronze medal.
France won the recurve men's gold medal match with a perfect 30 in a tiebreak. The Netherlands scored 27 points.
"It's a real pleasure. It's been a while without a medal with this team, so it's very good to get this gold medal. We are very proud of it," said Pierre Plihon. 
"The most important thing will be tomorrow because it will be for the Olympic spots. But this medal means a lot for me. And doing things with these two means a lot for me. It gives me great happiness to shoot with people I like and respect a lot," added Plihon, who took over the anchor spot from Jean-Charles Valladont after their first match. 
"It's new for me but it went well for me this week, and I'm in a good moment now, and I feel able to take charge of third place and handle my emotions well enough to be there," said Plihon.
Steve Wijler put in a tense eight in the third set that allowed France to jump into the lead. Sjef van den Berg, in the Dutch anchor spot, pulled things back to force the shoot-off at the end of regulation.
"I felt like we did good, and I was happy with my own performance as well," said Sjef. "France just did a stellar job under the circumstances. It was a tricky wind, definitely did something with the arrows. They solved that really well and communicated well."
Italy beat Spain to the recurve men's team bronze medal in Minsk.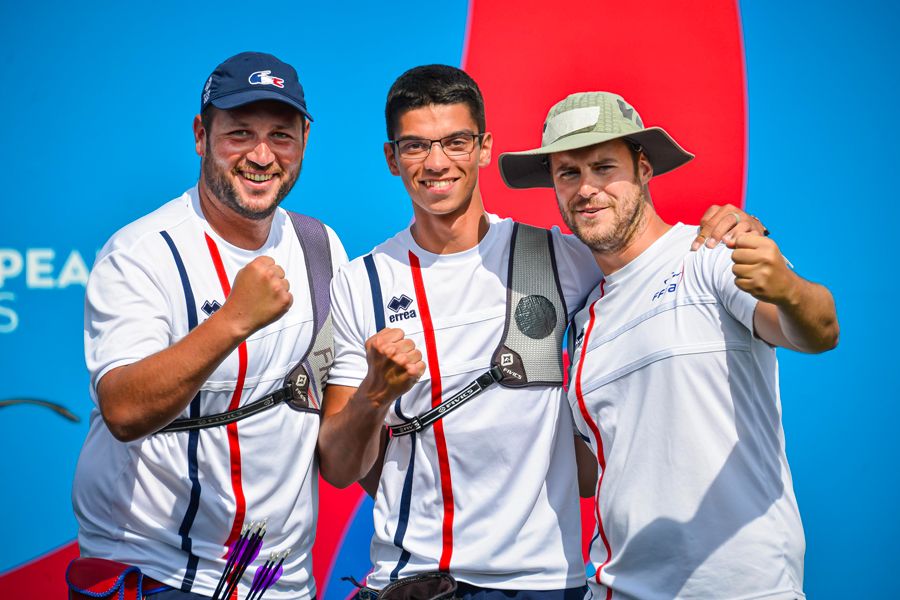 —