Two para-archers, two compound archers, and one of the most influential people in European archery of the past decades – these women embody the ethos of inspiring women in European archery. By sharing their stories, their contribution and the input these women give to archery, World Archery Europe wishes to celebrate the role that women play in all areas of our great sport.
DEJANA BACKO (SRB)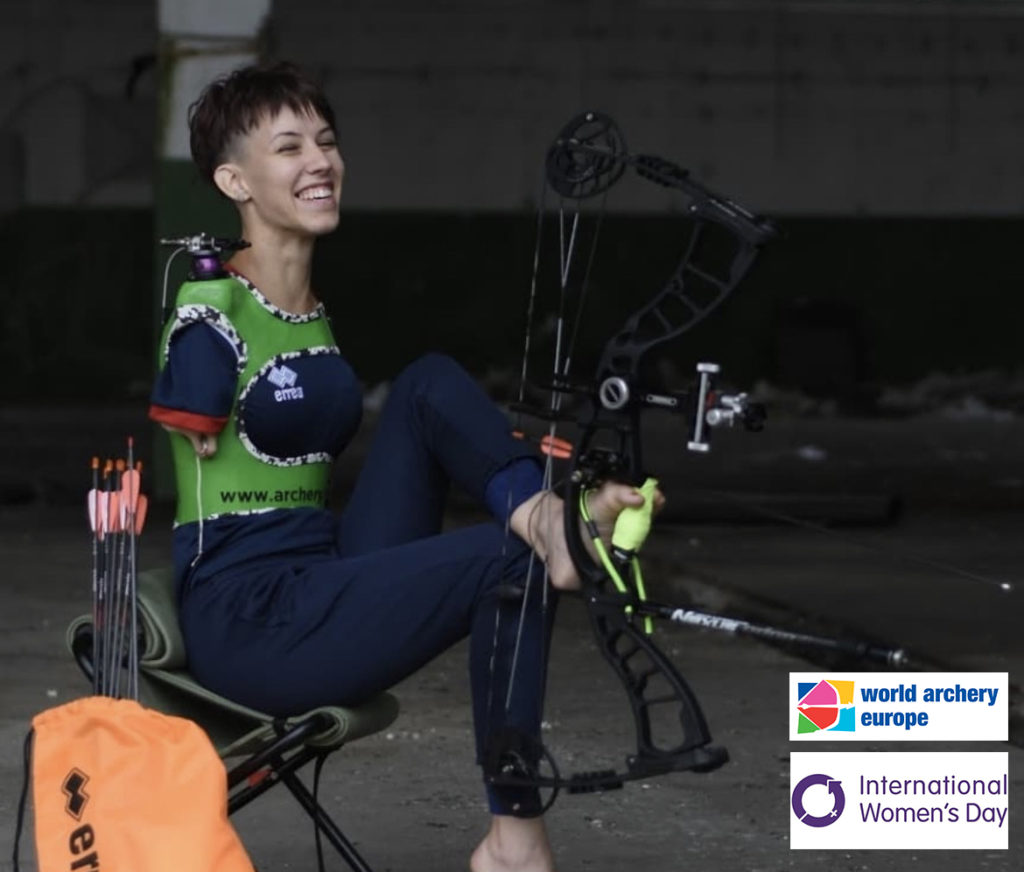 In the year 1994, on December 9th, Dejana Backo was born in Novi Sad, Serbia. And though she was born without the upper extremities, she decided not to let that influence her life. Thus began her journey of self-discovery and consequently self-actualization that led her to art and sports.
Her path was by no means easy, yet, by the age of 27, she managed to achieve more than many able-bodied people do in their lifetime. Since she was nine years old, she has been a member of "WDMFK", the society of mouth and foot painters. Joining the society inspired her even more to work on her art, and so in 2014, at the age of 19, she graduated from the design art school "Bogdan Šuput", and after that enrolled in the Academy of Fine Arts in Novi Sad. In 2018, after graduating from university, she decided to continue her education at Akademija Klasicnog Slikarstva EDUCONS at Sremska Kamenica. So far, she has had solo exhibitions in nearly 20 cities in various countries around the Balkans.
Art, however, is not Dejana's only love. She has been into sports from a very young age. Currently, Dejana is a member of the Archery Club NS 2002, from Novi Sad. Her love for archery, though, developed later in life. However, through hard work and dedication, she managed to achieve notable results rather quickly. Today, she's competing in the Compound Women category. Throughout her career, she has participated in numerous tournaments. Most of those were in Serbia. However, she has also competed in several European tournaments including the WAE Para-archery European Cup, 2nd leg in Czech Republic. In 2019, her archery career took off when she won the Serbian Para-archery Indoor Championships after which she only continued to improve. Dejana was also a recipient of a Serbian Ministry of Sport scholarship for the year 2020 as she was recognized as a sportswoman of national value which continues to this day.
It's also important to mention that she has competed in other sports even before commencing her journey in the sport of archery. Though enjoyer of many-a-sport, an honorable mention must be given to taekwondo, which has been a part of Dejana's life for years now. In Para-taekwondo she has gone so far as to become a National Champion and European Vice-champion three years in a row, and she even managed to became a World Champion in 2019 and 2021.
—
VICTORIA KINGSTONE (GBR
)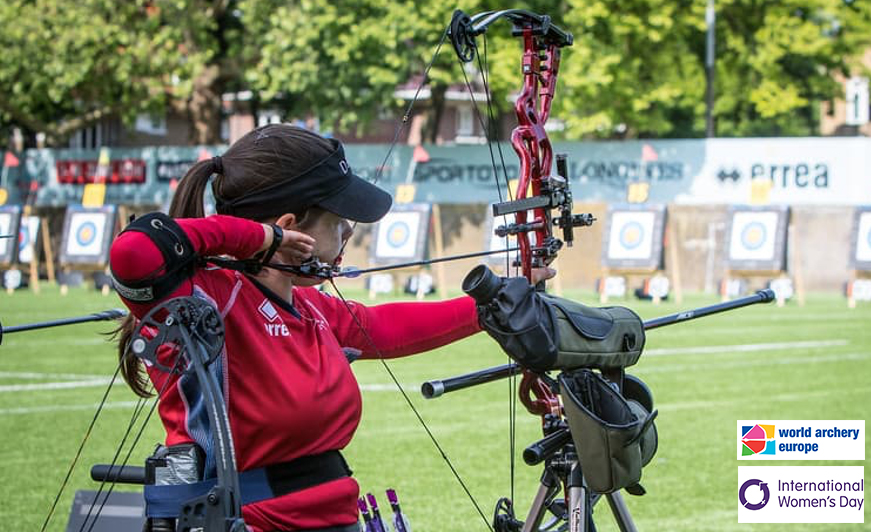 Growing up with a disability and in a non-sporting family, sport was not encouraged at home or at school. I was probably the least likely person ever to become an athlete – I had no interest in either watching or participating in sport of any kind.
It was university, and the experiences it encourages, that changed my perceptions of what sport is and what it enables. Through wheelchair basketball, I found a whole new world. As an international official and classifier, I have literally travelled the world, officiating at European and World Championships, Olympic and Paralympic Games, but believed that representing GB was an honour best left for other, more competitive people.
Discovering archery
An unexpected medical diagnosis in 2016 led to a reassessment of my hobbies. I could no longer play such a 'physical' sport, so in 2017, when I applied to UK Sport's Discover Your Gold campaign (matching people with disabilities to potential sports), I was both relieved and surprised to be directed towards para-archery. It was a sport that I knew nothing about – after all, it doesn't exactly have a TV presence (not that I'd have watched it anyway…). Also, we archers are very good at hiding away in out-of-the-way fields or sports halls.
Initially, I had no ambitions of being an 'athlete'. I had never been a great wheelchair basketball player; I just enjoyed having a hobby that kept my mind and body active whilst spending time with friends. I hoped that I would find this again, which I did, and so much more besides.
In the whistle-stop two years that followed, I went from barely knowing the sport existed, to joining Guildford Archery Club and the Para-Conversion Academy and ultimately representing GB at the World Championships in 2019.
This was one unbelievable experience of many that I have been privileged to have in just a few years, so I know that with the support of everyone (inside the sport and out), I will continue to achieve as an athlete, and maybe one day as a coach.
Archery is inclusive!
One of the many things that I love about archery, both as a sport and as a community, is how inclusive it is. I am sure everyone has looked along a shooting line and seen people of all shapes, sizes, ages, genders and (dis)abilities, shooting a range of bow types and distances and with a variety of experience levels. I cannot think of another sport that manages this so effortlessly and consistently. It is also a sport where anything is possible and people go out of their way to help and involve you: can't stand up to shoot – use a stool or wheelchair; can't hold a release aid – use a harness, mouth tab or fingerless release. There is an adaptation and a role for everyone in archery.
I have been so lucky to work with some absolutely fantastic women (and men, but this is for International Women's Day after all). Each has their own amazing story to tell. My only regret is not finding this wonderful and enabling sport when I was younger.
—
INGRID RONACHER (AUT)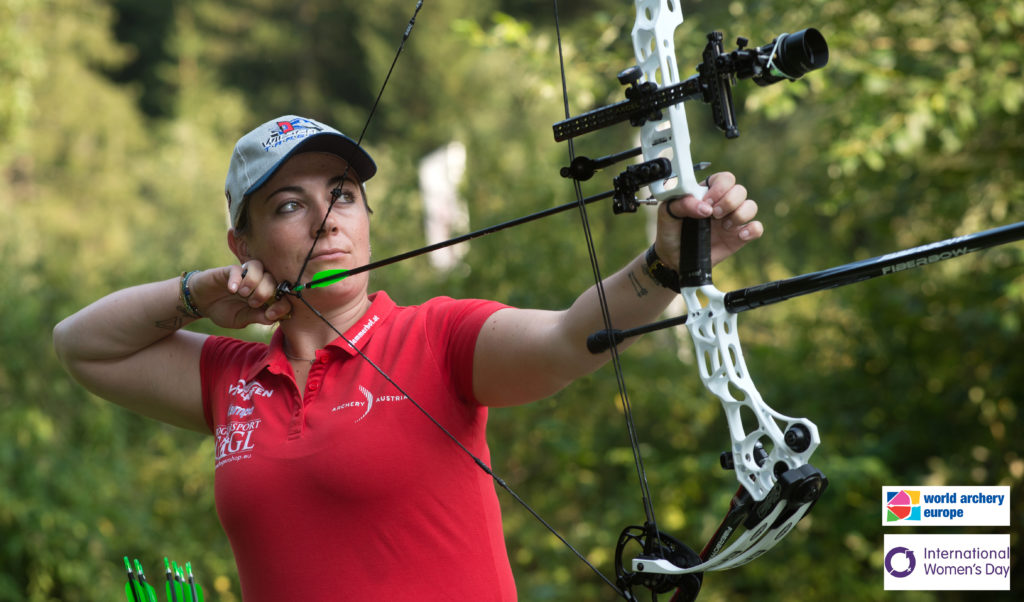 When you come to an Austrian Youth Training Camp and you see a woman who teaches the kids how to deal with the media – then you meet Ingrid Ronacher, the reigning WA 3D World Champion Compound Women.
Aged 14 Ingrid started doing archery.
In the beginning it was the longbow in my family circle that fascinated me. First, I was skeptical, it felt like "playing Indians" at the time. But archery fever soon got the better of me and I spent many years competing in fun tournaments. In 2014, my federal state needed a female compound archer for the team competition at the Austrian Championships. I tried it and fell in love immediately. Many great moments, successes followed and I still can't live without archery.
Why did Ingrid choose the Compound bow?
First of all, because of the aforementioned team competition, but why I didn't stop with it straight away was the precision. I really enjoyed being able to place the arrows where I want them over long distances.
Ingrid is not only the reigning WA 3D World Champion, but became also WAE European Vice-champion with the Austrian 3D Women´s Team in 2021. Moreover, she is an all-round archer, multiple national Austrian Champion and medalist in Indoor and Outdoor, Field and 3D Archery in the individual, mixed team and team event. The WAE European Field Championships saw her also as top-ranked athlete.
Besides being a successful archer, Ingrid is president of Archery Salzburg, organizes Austrian 3D Championships and owns a photography and advertising agency. What – in her opinion – makes her an inspiration for other women?
I think some are inspired by the daily routine, the timing, the amount of work, the training times and the resulting success. As a "normal" working archer, or as a self-employed person, it's hard to keep up with the full-time archers. We have different requirements. My tip – live and burn for your passion, have a smile on your face as often as possible and have fun developing yourself! Mistakes are part of it, losing is part of it, but then you win again!
Compound archery was not really popular among Austrian female archers some years ago, but popularity is growing now – no wonder with such a successful pioneer!
—
AMANDA MLINARIC (CRO)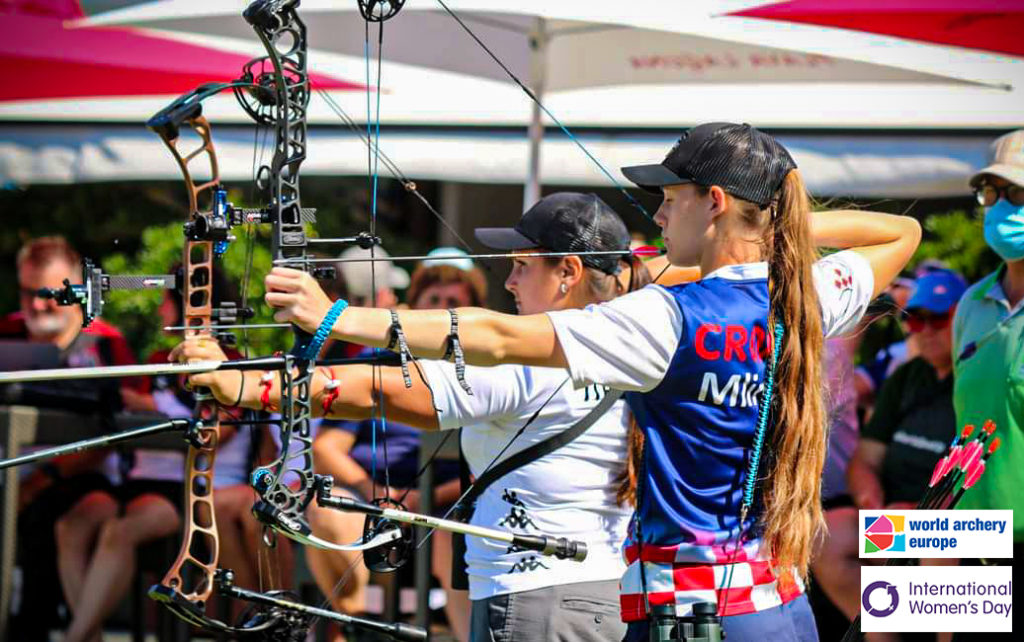 The Croatian Archery Federation is very proud to be represented by an exceptional young woman at the very top of international archery. Her name is Amanda Mlinarić and at just 20 years old, she made history with her remarkable achievements.
She is a two-time Junior World Champion – the first person ever to defend their youth world title. Her other achievements include being a two-time European Grand Prix winner, two-time Junior European Field Champion and a Senior European Field silver medallist. She owns several Youth European and World Records. And these are just some of her results.
I like archery because it's an individual sport. Whatever happens, you depend on yourself and you can't hide behind the team.
This brave young woman is an inspiration and a role model for many young archers in Croatia. There is an increasing number of women who decided to practice archery, especially in her hometown Varazdin. Her club "Varazdin Archery Club" currently has more female than male members. Undoubtedly this is Amanda's credit.
Archery is certainly a sport accessible to girls, especially because women are very close to men by results. Since I often lack female opponents in Croatia, I like to compete against male competitors and I can tell that I have been better several times already.
Her message to young women taking up archery is: "Everything will come into place, just keep on pushing. Hard work makes dreams come true."
—
IRENA ROSA (SLO)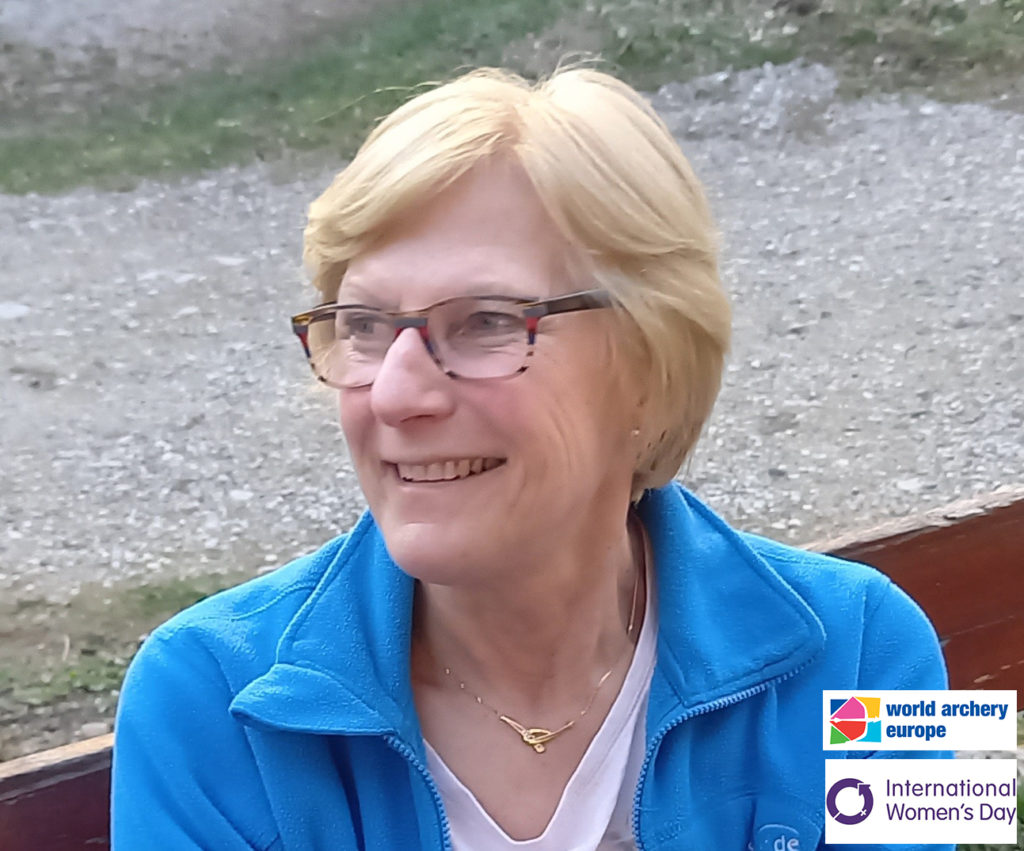 Asked for an article about an inspiring woman in archery, a presentation of Irena Rosa from the Archers Association of Slovenia was received. It was a long one and she commented the representation with "I know that it is a long one, but I am also old and did a lot in my life…".
There is no part in archery Irena has not been part of in an influential way. Aged 30 years old, she joined the world of archery as support member of a local club. Only five years later she not only led that club, but was an active archer, coach, president of the national Judges Committee and member of the Executive Board of the Archers Association of Slovenia – serving her organization in that position almost 40 years, seven of those years as president.
Since 1990, Irena has been present at most of the European and World Target Championships – whether as competitor, judge, team manager, TD or her Association´s delegate. As such she represented Slovenia at almost all WAE and WA Congresses since 1997. The period of her seven-year presidency of the Archers Association of Slovenia (starting in 2004) was marked by an increasing quality work with competitors, with a focus on young archers, and the acquisition of a professional staff. Besides, the Association hired coaches and covered the archers´ international competitions financially for the first time.
Except during her presidency, Irena was president of the national Judges Committee from 1987 to 2015, being the spiritual leader also afterwards. She became International Judge (IJ) in 1994, since 2006 she has been responsible for the translation of the WA Rules and the Judges´ Guide Book into Slovenian. Her successful career as IJ culminated in being Chairwoman of Judges at the World Field Championships in Italy – after participating as IJ in numerous European and World Championships and three Olympic Games (Sydney 2000, Beijing 2008, London 2012).
The Paralympics in Rio de Janeiro 2016 were the culmination of her international career as DoS. Her DoS reports from the first world cup events still count to the essential documents that help planning the exact schedules of highest-level individual and team final matches. Moreover, Irena is well-known not only as organizer of successful European Indoor, Outdoor, 3D and Field events. Since 2010 she has been working as Technical Delegate for numerous WAE and WA competitions.
Among all these activities, Irena still is committed to the support of young archers. Starting with giving archery courses as teacher in a primary school in her early archery-times, Irena now is chairwoman of the WAE Youth Development Committee (since 2003) – and far away from being seen as old…