Last stage of Hyundai World Cup 2016 in Odense (DEN) for "The Finals".
The best 8 archers in Recurve and Compound, men and women, and also the best 2 mixed teams in both divisions competing for the 2016 title.
After the Olympic Games – Rio 2016 this is the most important, and also the last, event of the the year … yes of course, don't forget the World Archery Field Championships in Dublin, next week.
Let's start from Compound Women competition, ended with a thrilling finals.
Marcella Tonioli took the Hyundai Archery World Cup final women's individual title on compound Saturday in Odense, beating the number one seed in the tournament, Sarah Sonnichsen, on her home soil in a dramatic shoot-off.
The Italian archer has over a dozen World Cup medals to her name and was mixed team world champion in 2011 and 2013 – but Odense completed her World Cup Final podium set. She had already won a bronze medal, in Istanbul in 2011, and silver at Paris 2013.
Tonioli was hot from the off, putting in a 147 against Lily Chanu Paonam of India and then beating a slightly off-form Crystal Gauvin of the USA in the semifinal, 144-139.
Sonnichsen had beaten Danish teammate Erika Anear and then Yesim Bostan, from Turkey, in the semifinal with scores of 147 in each, to set up a gold medal match with Tonioli, the third-overall seed.
Both archers seemed tense on the finals stage, shipping eights and leaving Tonioli a point adrift after the fourth end. In a even tenser fifth end, Tonioli and Sonnichsen matched each other point for point – but then the Italian archer's second arrow was upgraded to a 10, putting the scores level after 15 arrows and forcing a shoot-off.
In the tiebreaker, both archers shot close nines.
The crowd held their breath as the judges measured, and Tonioli's was called closer by just a fraction – 44.3 millimetres from the centre of the target compared Sonnichsen's 47.2 millimetres.
"It was incredible. I was shaking so much. When I shot the nine, I thought it wouldn't be the winner," said Tonioli, who loosed first.
After Sonnichsen shot her arrow, the wait to confirm it was almost unbearable.
"I though that mine was nearer than Sarah's. But until the judges said I had won, I didn't believe it," said Tonioli.
"It's almost too big for me right now. I can't explain my emotion because it's too big for me right now. I was so excited about this final, but I didn't think I could win," Tonioli added.
It was a tough blow for Sonnichsen, the number-one ranked archer, who was a strong favourite for the title after the withdrawal of Sara Lopez.
"It's not fun, having to go to a shoot-off," she said. "I don't think anyone thinks it's fun, because you only have one arrow and you have to put it in the middle."
"I got a lot of experience [today]. The first two matches were good, the last one wasn't so good. I can take it home and work on it, try to figure out what I can do to make my matches better. So I don't shoot an eight."
In the bronze medal match, Crystal Gauvin beat Bostan by a single point.
Compound Men.
Mister Perfect won matches against Martin Damsbo, Domagoj Buden and Seppie Cilliers to take Odense gold.
Since his first appearance on the Hyundai Archery World Cup circuit in 2011, Mike Schloesser has become one of the most consistent compound archers in the world.
Carrying the nickname "Mister Perfect", which he earned in 2015 in Nimes by shooting a perfect 600 out of a possible 600 points for the indoor ranking round, he qualified for his first Hyundai Archery World Cup Final in Mexico City in 2015.
Mike lost his first match at that tournament, to host nation archer Mario Cardoso. That match, which Mike described as terrible, caused him to become depressed and develop a terrible fear for finals.
The top ranked compound man in Odense, Mike wanted to beat the fear – and he succeeded!
"I'm feeling good," said Mike, smiling. "I made a lot of really good steps, still not there because my last arrow against Seppie Cilliers was still a bit rusty, but I'm getting better and better. I'm pretty sure I will have everything under control next time."
Against Seppie, Mike shot probably one of his best final matches. He shot three consecutive perfect 30s – nine 10s in a row – and only landed one arrow, a seven, out of the gold.
"That last shot was just the summary of what I had all year. I don't know why, but I just couldn't execute a great shot," he explained.
Before he celebrated and felt the relief of becoming Hyundai Archery World Cup Champion, for the first time ever, Mike admitted he had to deal, more mentally than physically, with the pressure of his first match against local man Martin Damsbo.
"It was difficult against Martin because of what happened to me last year. I didn't want to go through it again. I'm glad it was a great match and it all went well. It was hard mentally speaking," said Mike.
He said he was now ready for future competition.
"It's also a bit of good luck because you always need that one shot that makes the difference, but you just never know when it will happen," he said.
Seppie Cilliers took silver and gave South Africa its first ever podium finish at the Hyundai Archery World Cup Final. Cilliers was in tears in the call room even before he stepped out for the gold medal match.
"It's a good feeling. My last international tournaments were in 2011," said Seppie. "This year I decided to give it another try. I'm really happy with the second place."
Seven-time finalist Reo Wilde, from the USA, won bronze, beating out debutant Domagoj Buden to the last spot on the podium, 145-143.
Compound Mixed Team
For the second Hyundai Archery World Cup Final in a row, Denmark lifted the compound mixed team trophy.
Denmark retained their compound mixed team Hyundai Archery World Cup title in a high-quality display against Colombia. The team ofTanja Jensen and reigning World Champion Stephan Hansen defeatedAlejandra Usquiano and Camilo Cardona, 155-152.
It meant they became circuit winners for a second year in a row, after taking gold at Mexico City 2015, when Stephan shot with Erika Anear.
There, the Danish team qualified as the top-ranked mixed team on the year. At Odense 2016, Denmark was the host nation defending its turf. (It's the fourth time the host nation has won the mixed team event – all in the compound competition.)
Both the Danes and Colombia were solid in the match, putting nothing outside the nine ring, but Hansen's consistency gave Denmark a two-point lead going into the third. They maintained that lead into the fourth end, when the wind visibly wobbled Danish bows, but Colombia didn't have enough in reply and Denmark took the match.
"It's never easy to win. We did our best. We just did what we were supposed to. They shot really good. I got a little pressure, I could really feel it," said Tanja.
"We knew it would be a tough match. Me and Stephan have shot together many times, so we are very comfortable in the situation. It's just like practice. Nothing out of the ordinary!"
The Colombian pairing of Cardona and Usquiano hadn't been able to practice together at all – Sara Lopez had been expected to be one half of the pairing, but withdrew from the competition only one week prior to the event.
"We didn't have any time to prepare, because the last time we shot together [as a mixed team] was in 2012, and we don't get to shoot together much in the national team. We live in different states," explained Alejandra. She lives in Medellin region, Camilo in Pereira.
"Despite the results, we think we did a good job and represented our country and did Sara proud."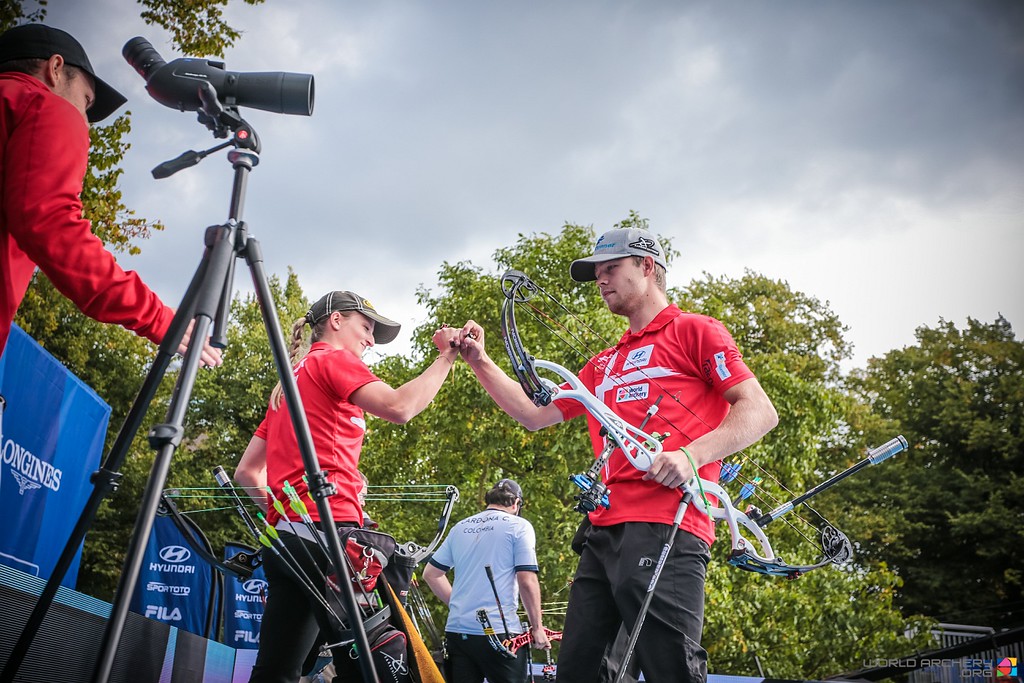 Recurve Mixed Team
Korea takes 4th World Cup Mixed team Title beating Denmark 5-1.
Recurve Women
Again Korea … World Archery Champion Ki Bo Bae beat defending Hyundai Archery World Cup Champion Choi Misun to gold in Odense.
Ki Bo Bae won her first Hyundai Archery World Cup title four years ago in Tokyo, just few months after becoming Olympic Champion – both individual and team – at the London 2012 Olympic Games.
Her second crown on archery's international circuit came after she won another two medals at the Games, this time individual bronze and team gold in Rio de Janeiro, held from 5-12 August 2016.
Recurve Men
Ellison has now won the Hyundai Archery World Cup a total of four times.
The 2016 Hyundai World Cup Final wrapped up in style, as Brady Ellison – by the skin of his teeth – took his fourth World Cup Final title, after wins in 2010, 2011 and 2014. He beat the Netherland's Sjef Van Den Berg in the most dramatic way possible – a single arrow shoot-off.
In bright conditions with occasional gusts of wind, Ellison raced away to a 4-0 lead after the first two ends of the final, continuing the solid form he showed in his first two matches. Sjef struggled to find his shot until the third end, but fought back and then levelled the match in the fourth after Ellison uncharacteristically shot an arrow through his clicker.
"I made a huge mistake, It just slipped, and as soon as I let it go I knew it was gonna be gone. You do something like that and feel guilty for winning," said Ellison
The fifth end saw both archers shoot two 10 and an eight – and the title was almost van den Berg's right there, as his eight was incredibly close to the nine-line. There was a tense moment as the judges measured, but it stayed an eight, and the final went to a shoot-off – the first and last of the day.
The feeling while they were measuring?
"I was hoping for a nine, but I was ready for the shoot-of," said Sjef.
Brady shot first, and put in a wide nine.
"I was thinking that I gave him a lot of room and he was going to beat me. I really didn't think that that was going to be a good enough shot to win." he said. Sjef stepped up – and shot an eight.
"As soon as I saw Sjef let that arrow go, I turned to my wife and said 'that looks good'. Maybe he didn't see some wind or something out on the field, and I just got lucky," Brady added.
Ellison, an advocate for rewarding consistency in shooting, was frank about the way the match played out: "I'm still going to take the win, that's the system we play in. I don't feel like I really deserve this one – Sjef shot good, and came back. In the shoot-off we both put it out left, and luckily mine was a little closer."
"It means a lot. It's my fourth World Cup Final championship. Sara Lopez was getting close, but winning it this time and pushing it a little farther out of reach, feels good. It caps a pretty good year. I won the indoor World Cup final, individual Olympic medal, bronze at the world championships, and now this," Ellison said. Lopez, a compound woman who withdrew from Odense, won in 2014 and 2015.
In the bronze medal final, an upbeat Ku Bonchan seemed happy with the bronze he took against Wei Chun-Heng – meaning that the men's podium featured three of the top four finishers at the Rio 2016 Olympic Games.
"There's lots of very nice competitors, very nice archers in here, so I think it was a good result. I'm now going to focus on the Indoor Archery World Cup in Bangkok," Ku said afterwards – shortly before swapping shirts with Brady Ellison.
Brady won the world cup final title in in 2012 in Tokyo, also held immediately after the Olympic Games – where Ki Bo Bae also took the individual title. (She repeated the feat, too, in Odense.)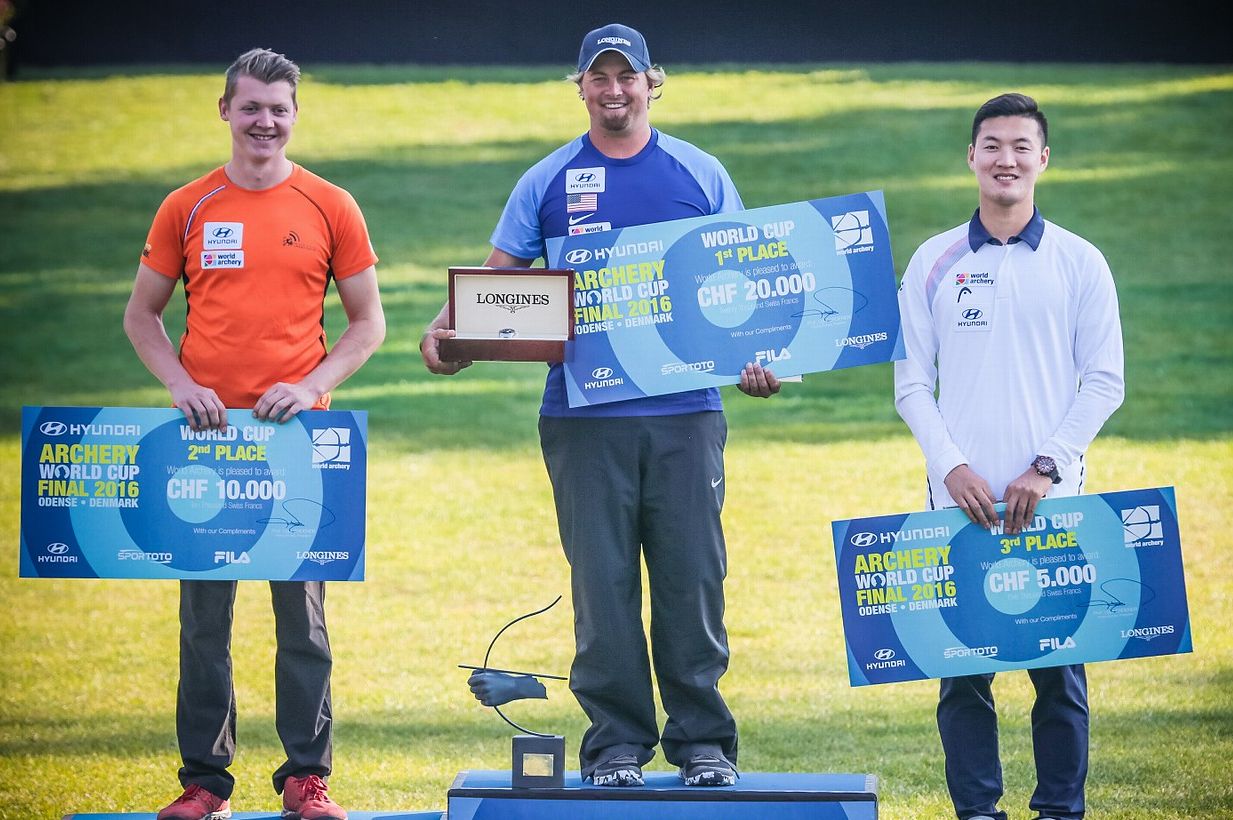 —
All results
Articles by World Archery