Awarded the first Recurve Team medals at the European Grand Prix in Lilleshall 2023.
In the Recurve women's teams the bronze medal goes to the Danish trio DANSTRUP ANDERSEN Kirstine, DEGN Randi, JAKOBSEN Nanna, which wins 6-2 against the Italian team DI FRANCESCO Roberta, LANDI Ginevra, LANDI Vanessa. On April 8 Germany and Spain will play the final for Gold.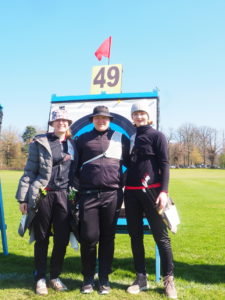 In the Recurve men's teams Ukraine composed by KOZHOKAR Ivan,  OVCHYNNIKOV Artem, RUBAN Viktor  won the bronze medal with a clear 6-0 against team Slovakia DUCHON Juraj, DUCHON Miroslav, MEDVECZKY Daniel. Appointment on April 8 for the final of the gold medal in the men's recurve teams between Germany and the Netherlands.