The team matches that awarded the titles up for grabs concluded today.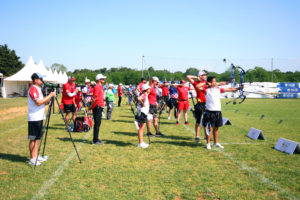 The Spanish national team prevails in the Recurve women's team and in Recurve Mixed team driven by Elia CANALES. The trio CANALES, FERNANDEZ INFANTE,UNAMUNZAGA ALTUNA wins the gold medal at the shoot off 5-4 (T27+ to T27) against the Ukranian team HNYP, MARCHENKO, PAVLOVA. Bronze medal goes to KAZLOUSKAYA, LESNIAK, SMIALKOWSKA (POL). Still in the shoot off the Spanish duo CANALES, MERIDA wins the second gold medal of the day against GAUBIL, CHIRAULT (FRA) 5-4 (T19 to T18). STRAKA, GSTOETTNER (AUT) conquer the bronze medal.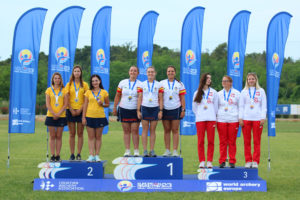 In the men's team the Olympic Champion GAZOZ leads his team (GAZOZ, TUMER, YILDIRMIS) to the conquest of the gold medal. 5-3 the score with which the Turkish team wins the match against the Swiss trio CHABIN, RUFER, SCARBORO. Bronze medal goes to DROR, FRENKEL, KLEINER (ISR).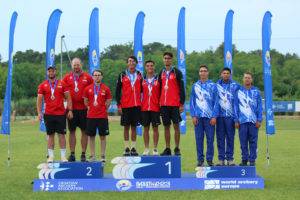 In Compound men AKCAOGLU, HANEY, YILDIZ (TUR) wins the gold medal against Norwegian team  FIGVED, HAUGSETH, ISNES. Third place and bronze medal for MATZNER, WIENER, WIENER (AUT). SHKOLNA and SEYWERT (LUX) win the gold medal 154-151  against the home duo MLINARIC, VAVRO (CRO). Bronze medal goes to BURUN, HANEY (TUR).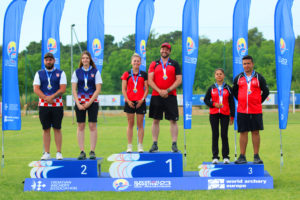 Tomorrow the last day of competition with the individual finals that will close this week of competitions.
don't miss the live streaming of tomorrow's finals ⇒ (1) EUROPEAN GRAND PRIX 2ND LEG – UMAG (CRO) – YouTube
Follow the results in real time on ⇒ European Grand Prix 2023 – Leg 2 (ianseo.net)
Enjoy!