The European Para-Archery will be the first WAE event of 2016, but also the first outdoor event … in the Olympic and Paralympic Year of Rio 2016!
Competition will be held in Saint Jean de Monts a seaside town on the west coast of France, on the Atlantic Ocean.
From 2 to 10 April, 145 archers from 24 nations will compete for European Titles but especially for other Paralympics Cards.
After the last World Para-Archery Championships in Donaueschingen (GER) on August 2015, this will be the second chance to get a pass for Rio. The next and last event will be in Nove Mesto (CZE), from 13 to 19 June, at the World Para-Archery Tournament.
In the past edition of Nottwil (SUI) 2014, Italy was first in the final Medal Standings with 5 medals (3 golds and 2 bronzes).
Paralympic Tournament
Let's have a look on which nations already has one or more spots for Rio:
Czech Rep.: 1 place

Finland: 2 places

France: 2 places

Germany: 2 places

Great Britain: 9 places

Greece: 1 place

Italy: 8 places

Latvia: 1 place

Poland: 2 places

Russia: 10 places

Slovakia: 1 place

Spain: 1 place

Switzerland: 1 place

Turkey: 3 places

Ukraine: 2 places
In Saint Jean de Monts will be available:
2 places in Recurve Open Men

2 places in Recurve Open Women

2 places in Compound Open Men

1 place in Compound Open Women

1 place in W1 Men

1 place in W1 Women
The Continental Quota Tournament will be shot on Tuesday afternoon (5th April) and Wednesday (6th April).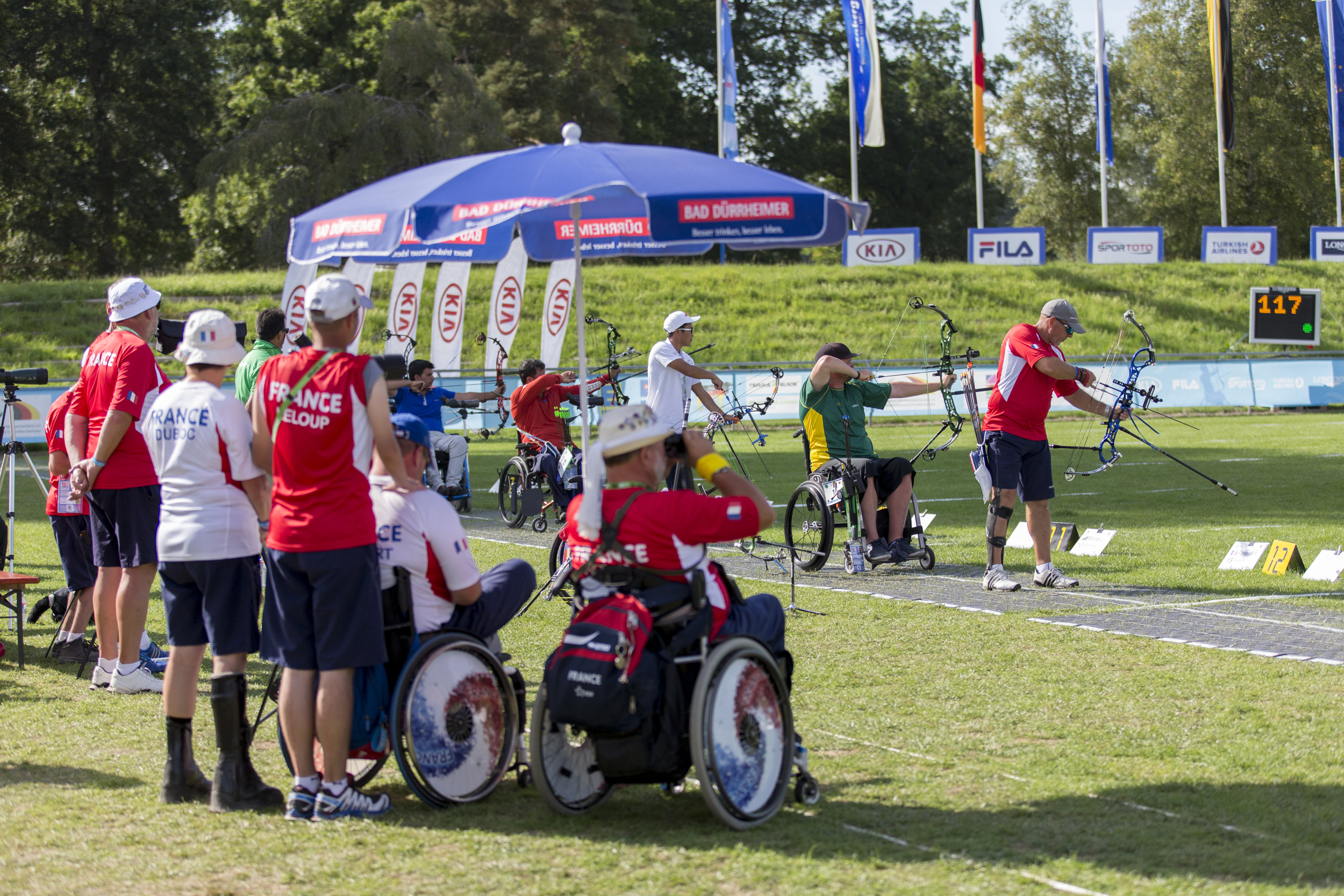 Rules
The archery competition is held in two phases: a qualifying phase which consists of shooting 2×36 arrows (in ends of 6) from 70 meters for recurve, 50 meters for compound and W1, and 30 meters for the visually impaired. This phase is used to classify the archers for the next phase, both for the individual competition and the team competitions. Head to head matches: depending on their classification, archers, teams and mixed-teams are divided into a table, cross-section form, for direct elimination matches.
7 Individual titles to be awarded:
W1 Women's

W1 Men's

Women's Open Compound

Men's Open Compound

Women's Open Recurve

Men's Open Recurve

VI 2/3 – Visually Impaired with stabiliser and without mask, without arm or sex distinction
4 Team titles to be awarded:
Women's Compound

Men's Compound

Women's Recurve

Men's Recurve
3 Mixed-Team titles to be awarded:
Info
There will be LIVE streaming of Finals (www.live.pararchery-euro2016.com):
– Saturday 9: Teams and Mixed Teams
– Sunday 10: Individuals
Live results, thanks to Ianseo Team, on: http://www.ianseo.net/Details.php?toId=1282 and http://info.ianseo.net/?tourid=315
Live Tweet Results on WAE Twitter account (starting from Elimination Rounds): https://twitter.com/archeryeurope
Official competition website: http://www.pararchery-euro2016.com/en/
Event Page on WAE website: https://www.archeryeurope.org/index.php/events/2016-wae-events/saint-jean-de-monts-2016
Official WAE Photogallery: https://www.archeryeurope.org/index.php/photo-gallery/category/164-saintjeandemonts-2016
List of all Paralympic Spots for Rio till now (from World Archery): http://documents.worldarchery.org/Events/Paralympic_Games/Rio_2016/Paralympic_Quota_Tracker.pdf