Such a challenging week in Munich, not only for the high archery level of participants, but also for the crazy weather. Anyway, the 2022 European Archery Championships was for sure a great event.
Once again archery is confirmed as a sport of inclusion without barriers, few para-archery athletes were on the german shooting line together with able-bodies, competing for their nations (individual and/or in team).
World compound men's number one Mike Schloesser finally took his first-ever individual European Outdoor Championships title, defeating defending champion Yakup Yildiz (148-146) in the men's final at the 2022 edition in Munich today.
Earlier, Britain's Isabelle Carpenter saw off France's Sophie Dodemont (143-141) for women's individual gold. Carpenter was also part of the British women's trio who took compound team gold. Denmark won the mixed team event, but Schloesser missed out on two gold medals today with his Netherlands' men's team going down to Turkey in the final.
Before I came here I wanted this really bad and in the end I made it. I'm very satisfied, I'm really happy and I worked really hard for it. I'm just really stoked because this is something that's been on my list for a couple of years now; it's the first time I've done it.
said Schloesser just moments after his 148-146 individual victory.
The result means Schloesser is the first-ever men's Grand Slam archery champion, having now won the World Championship, World Cup Final, World Indoor Series and Continental Outdoor titles in his career.
The win also means Schloesser currently holds six titles with the one today adding to those of the World Cup Final, World Indoor, World Field, European Games and European Indoor champion.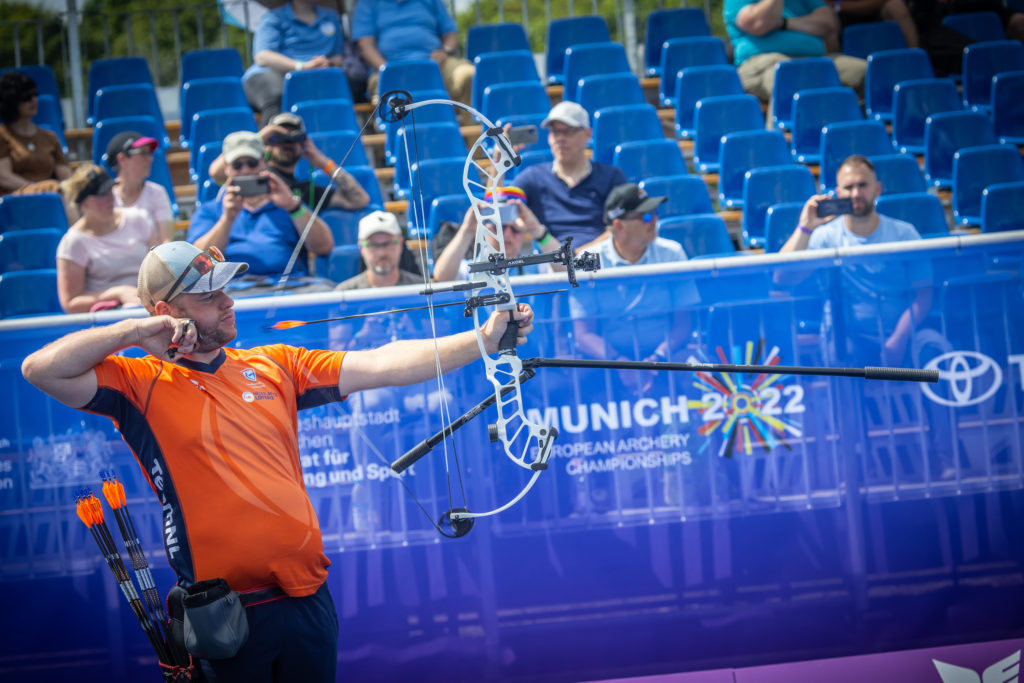 Estonia's Robin Jaatma won men's individual bronze, defeating Slovakia's Jozef Bosansky 10-9 on a tie-break after an almost perfect match had ended 148-148.
Great Britain continued their impressive season so far, with double compound gold today.
Earlier, Carpenter, along with 2022 Hyundai Archery World Cup stage one compound women's individual winner Ella Gibson and Rio 2016 Paralympic Games champion Jessica Stretton had defeated Italy 232-229 in the compound women's team event.
This is absolutely amazing, this is my first senior European Championship so even to be here I'm just so happy. The more matches I shot and the further I got through I realised, 'OK, I could actually make this final'. I never ever thought this would happen, honestly. It's such a surreal feeling, two golds. I mean, one was amazing already, but two is just absolutely incredible. I couldn't be happier.
said Carpenter after securing individual gold.
Carpenter had ranked 28th in qualification, but proved that meant little throughout a week of sun, rain, wind, cold and much more in Bavaria.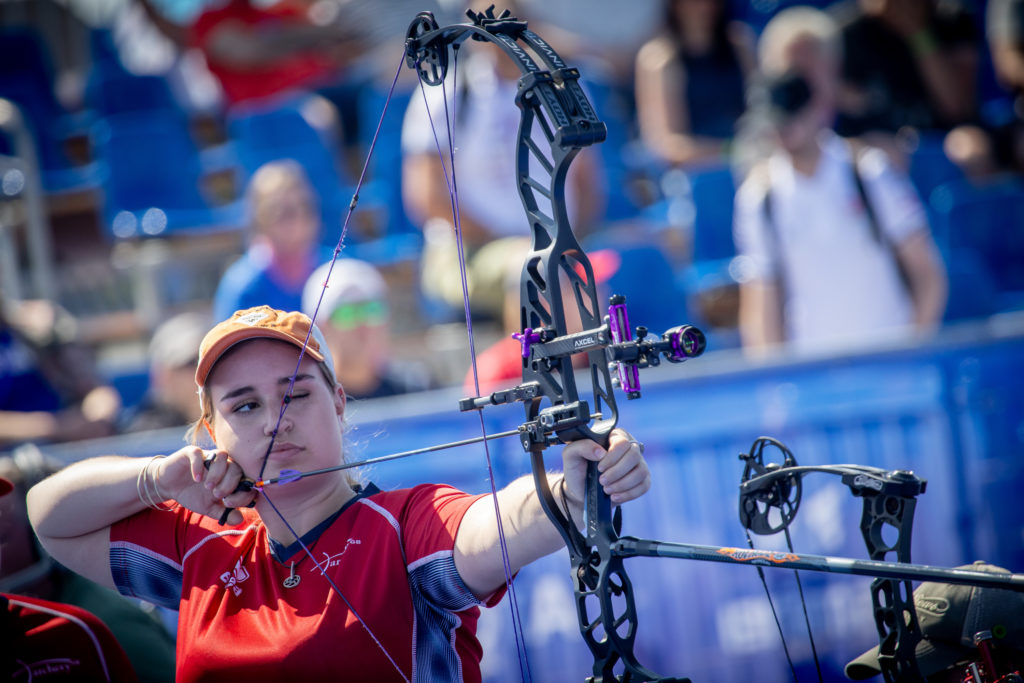 "Qualifying day wasn't for me, it wasn't flowing and there was changeable weather," she explained. "I had some issues with my bow handle and with the rain it was slipping round. I had to make some adjustments, put some tape on it and it got better as it went along."
"It did make it a lot harder when it came to the matches, but I know my strength lies in matchplay so I just had to fight as hard as I could."
Stretton also took time to reflect on the special success in Munich.
I'm not going to lie, I never really envisioned myself to even medal at an able-bodied championships, so to be here and medal with these two wonderful ladies, it's just surreal really.
she added.
Turkey beat Estonia in the compound women's team bronze medal match (231-226) in what was a fruitful day for the previous European Championship hosts.
Their compound men's team defeated Netherlands 238-230, ending with three 60s in a row and their mixed team beat Belgium for bronze. Ayse Bera Suzer overcame Italy's Elisa Roner (144-142) to ensure a bronze individual medal.
Bronze was also the colour for Nico Wiener and his Austria men's team after they defeated neighbours Slovenia, while Tanja Gellenthien overcame an error in her individual event earlier this week to bounce back for compound mixed team gold with Stephan Hansen, defeating Estonia 156-153.
It's nice to grab another title and we're really happy to be here and shoot some good arrows. It's always nice to have chances at a podium.
said the 2021 compound women's individual European Champion.
Maybe we'll have a little celebration. But we have to fly tomorrow so it won't be too much, we don't want to have too much of a hangover flying home.
added Hansen with a smile.
His words were quite apt as the matches today were the first time the specially-constructed finals arena at Theresienwiese in the Bavarian capital had been used, the same Theresienwiese which is the official ground for Munich's world-renowned Oktoberfest.
Compound men
Mike Schloesser NED
Yakup Yildiz TUR
Robin Jaatma EST
Compound women
Sophie Dodemont FRA
Ayse Bera Suzer TUR
Compound men's team
Turkey (Batuhan Akcaoglu, Emircan Haney, Yakup Yildiz)
Netherlands (Sil Pater, Mike Schloesser, Stef Willems)
Austria (Stefan Heincz, Michael Matzner, Nico Wiener)
Compound women's team
Great Britain (Isabelle Carpenter, Ella Gibson, Jessica Stretton)
Italy (Sara Ret, Elisa Roner, Marcella Tonioli)
Turkey (Yesim Bostan, Songul Lok, Ayse Bera Suzer)
Compound mixed team
Denmark (Tanja Gellenthien, Stephan Hansen)
Estonia (Lisell Jaatma, Robin Jaatma)
Turkey (Yesim Bostan, Emircan Haney)
—
On the site of the world-famous Munich Oktoberfest, in front of a packed, vocal and sun-drenched crowd, Spain's Miguel Alvarino Garcia and Turkey's Gulnaz Coskun saw off home archers Florian Unruh and Michelle Kroppen in their respective men's and women's 2022 European Championship individual recurve finals to take continental gold for themselves.
Both Unruh and Kroppen suffered a day of double disappointment with their individual final losses coming after the Netherlands' pair of Gaby Schloesser and Rick van der Ven had defeated them in the recurve mixed final. Kroppen did win one gold, seeing off Turkey in the recurve women's team final with Katharina Bauer and Charline Schwarz. Italy won the recurve men's gold.
Yes, so far. I am so, so happy I was hoping for this moment for a long time, I am really happy. It's my dream come true.
said a smiling Coskun when asked if this was her career high point in her 100th competitive match.
It is Turkey's second recurve women's individual gold in the last three European Championships, after Yasemin Anagoz's in 2018.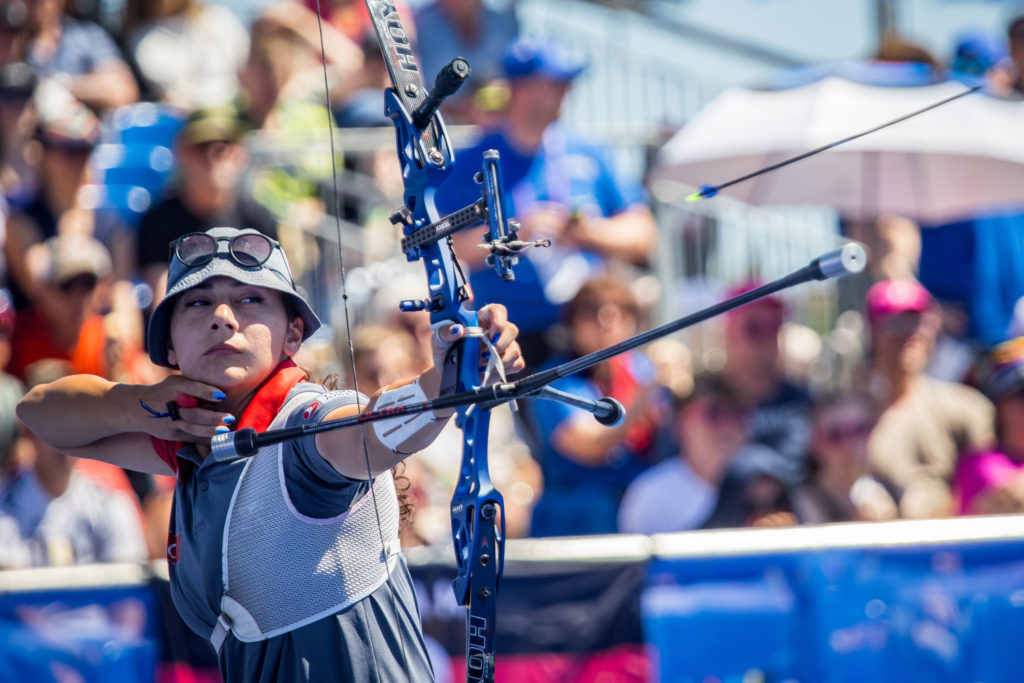 Despite her disappointment, Kroppen's silver was just the fourth-ever medal for Germany in the history of the recurve women's individual at the European Championship since it began in 1968.
That list only became four moments before Kroppen shot her final, with Katharina Bauer taking down Austria's Elisabeth Straka 6-0 in the bronze medal match.
Kroppen and Bauer have now doubled the membership of that exclusive group of German recurve women, joining Barbara Mensing (silver, 1994) and Lisa Unruh (bronze, 2016).
Spain's Miguel Alvarino Garcia is well and truly back on the big stage.
His 2015 World Cup Final title and the gap without individual medals between then and the beginning of this year seems like distant history now.
Under a lot of pressure like this European championship final, I give 100% and I feel so happy. I'm shooting the best in my career. I'm impressed by the German following at the finals and it's very cool to shoot in these conditions. [They saw] the best Miguel today, but tomorrow, I hope I will be better.
said the 28-year-old.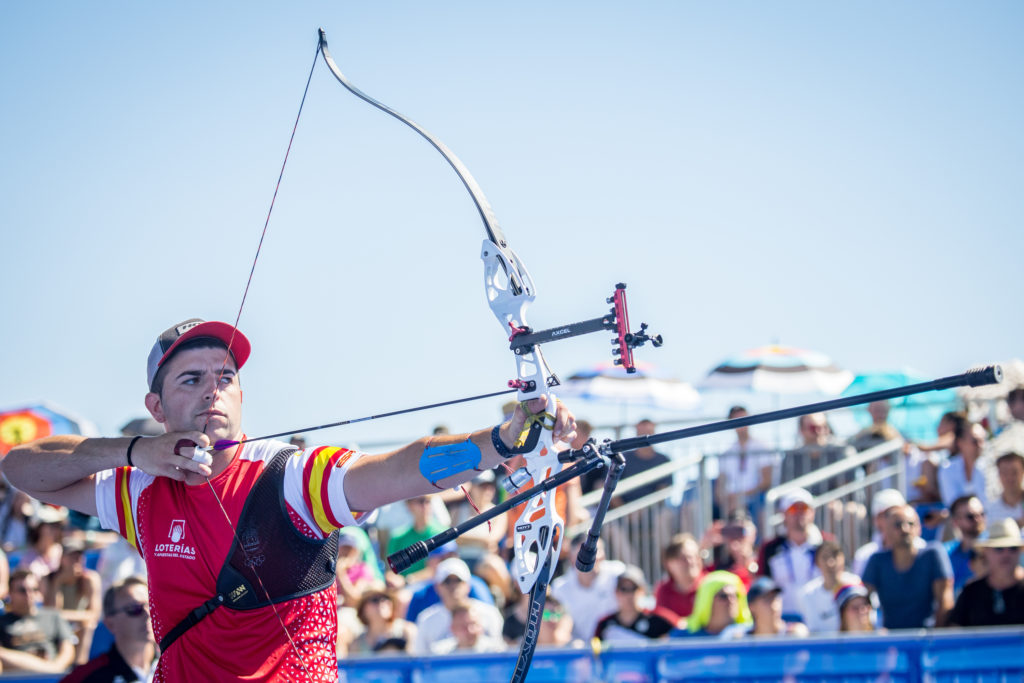 Olympic Champion Mete Gazoz beat Garcia's teammate Daniel Castro 6-4 for bronze, his second individual medal in the championship, after his 2016 silver. Castro and Garcia had earlier lost to Italy 5-1 in the recurve men's team final with Switzerland taking bronze after a 5-3 win over Great Britain.
That first opportunity to stand top of the podium for Germany was successful though, if a bit nervy.
"It's six consecutive medals for the German women's team," said Kroppen. "We have a secret but we can't tell you that now."
Slovenia defeated Denmark 5-3 for women's team bronze and Italy won mixed team bronze with a 6-2 win over Ukraine.
Recurve men
Florian Unruh GER
Mete Gazoz TUR
Recurve women
Gulnaz Coskun TUR
Michelle Kroppen GER
Katharina Bauer GER
Recurve men's team
Italy (Federico Musolesi, Mauro Nespoli, Alessandro Paoli)
Spain (Pablo Acha, Miguel Alvarino Garcia, Daniel Castro)
Switzerland (Keziah Chabin, Florian Faber, Thomas Rufer)
Recurve women's team
Germany (Katharina Bauer, Michelle Kroppen, Charline Schwarz)
Turkey (Yasemin Anagoz, Ezgi Basaran, Gulnaz Coskun)
Slovenia (Urska Cavic, Nina Corel, Ana Umer)
Recurve mixed team
Netherlands (Gaby Schloesser, Rick van der Ven)
Germany (Michelle Kroppen, Florian Unruh)
Italy (Tatiana Andreoli, Mauro Nespoli)
At the end of this 7-days event, Turkey is the leader of the final medal standings for nations with 8 medals (2 gold, 2 silver and 4 bronze); second place for Netherlands with 3 medals and Great Britain (2 medals). Host nation Germany is fourth even if with 5 medals total.
Athletes representing 12 countries collected medals in Munich.
The next event will be the 1st leg of Para-Archery European Cup in Nove Mesto nad Metuji (CZE) on July 2-10, but before in Oran (ALG) is time for the Mediterranean Games 2022 (June 28 – July 1).
—
thanks to World Archery