After World Master Games in 2013, Turin is ready to hold a new international multi-sport event: European Master Games 2019.
From 26 July to 4 August, the context in which the Games are held is very important. Turin welcomes the Masters offering a varied and rich cultural, artistic and naturalistic patrimony: Royal Residences, courtly squares and protected areas of the UNESCO's heritage. The sports competitions will be held in prestigious competition venues: parks, scenic routes and history of the territory.
The Torino 2019 EMG are open to athletes from all over the world. The basic requisites are: to love sport, to want to compete, to stay in company, to have fun and enjoy the Piedmontese architectural and food and wine beauties.
There are 30 sports: from basketball to football, from badminton to swimming, from golf to archery.
Archery will run from 31 July to 4 August with two types of competition and archers can compete in both events.
Target Competition 312 participants
Recurve bow: Men and Women
30+, 40+: 70 mt, target 122 cm
50+, 60+, 70+: 60 mt, target 122 cm
Compound bow: Men and Women
all 50 mt, target 80 cm, 6 rings
Field Competition 151 participants: WA standard distances for all competitors Recurve, Compound, Longbow and Barebow.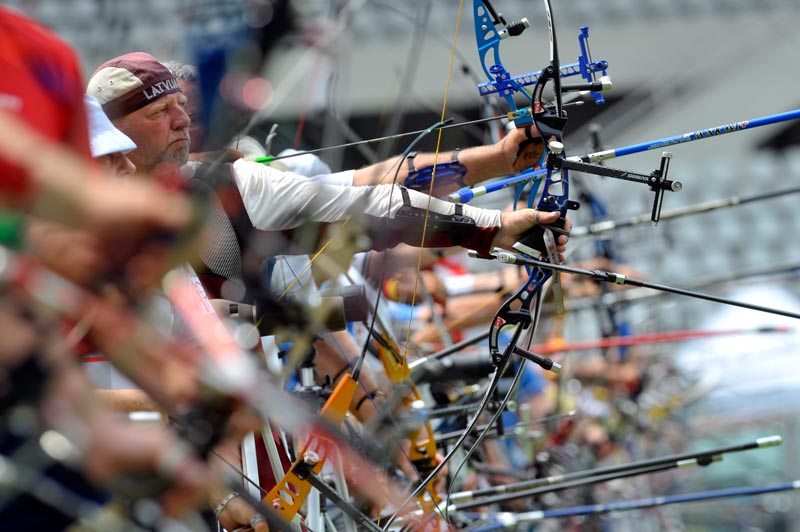 SCHEDULE
Field competition
Wednesday 31 July: Qualifications (Recurve Men + Compound Men – morning; Longbow, Barebow, Recurve and Compound Women – afternoon).
Thursday 1 August: Eliminations and Finals.
Target competition
Friday 2 August: Official Practice.
Saturday 3 August: Qualifications (morning: Recurve Men + Compound Women; afternoon: Recurve Women + Compound Men) and 1/48 Elimination Rounds.
Sunday 4 August: Eliminations (morning) and Finals (afternoon).
LIVE RESULTS
All results will be available on ianseo.net:
LIVE STREAMING
There will be Live Streaming on YouArco Channel during Finals. 
LOCATION
Turin is a city and an important business and cultural centre in northern Italy. It is the capital city of Piedmont and of the Metropolitan City of Turin, and was the first Italian capital from 1861 to 1865. The city is located mainly on the western bank of the Po River, in front of Susa Valley, and is surrounded by the western Alpine arch and Superga Hill. The population of the city proper is 875,698 (31 December 2018) while the population of the urban area is estimated by Eurostat to be 1.7 million inhabitants. The Turin metropolitan area is estimated by the OECD to have a population of 2.2 million.
In the 2013 Games edition archery was held in the Olympic Stadium and only target competition.
Field competition: Park of Rivoli Castel, Rivoli (Turin)
Target competition: Stadio Porcelli, Turin