The Baku 2015 European Games is shaping up to be the biggest multi-sport event on the European calendar next year and the ideal proving ground for athletes ahead of the Rio 2016 Olympic Games, according to senior figures at the leading National Olympic Committees (NOCs) of Europe.
Top representatives from all 49 European NOCs gathered in the Azerbaijan capital, Baku, last weekend for the 43rd European Olympic Committees (EOC) General Assembly. 
In the middle, President of Azerbaijan and the First Lady.
They received status updates from the Baku European Games Operations Committee (BEGOC), confirming preparations for Europe's inaugural continental multi-sport games are firmly on track. 
The NOC Presidents and Secretaries General also had a tour of the key venues including the National Stadium, the National Gymnastics Arena and the Baku Aquatics Centre.
Dr Thomas Bach, President of the International Olympic Committee, attended the EOC General Assembly. Speaking from Baku, he said: "I am deeply impressed to see the development here in regard to sport.
"What I have seen and heard about the preparations for the Baku 2015 European Games makes me very confident they will be an outstanding success for European sport and also an outstanding success for Azerbaijan."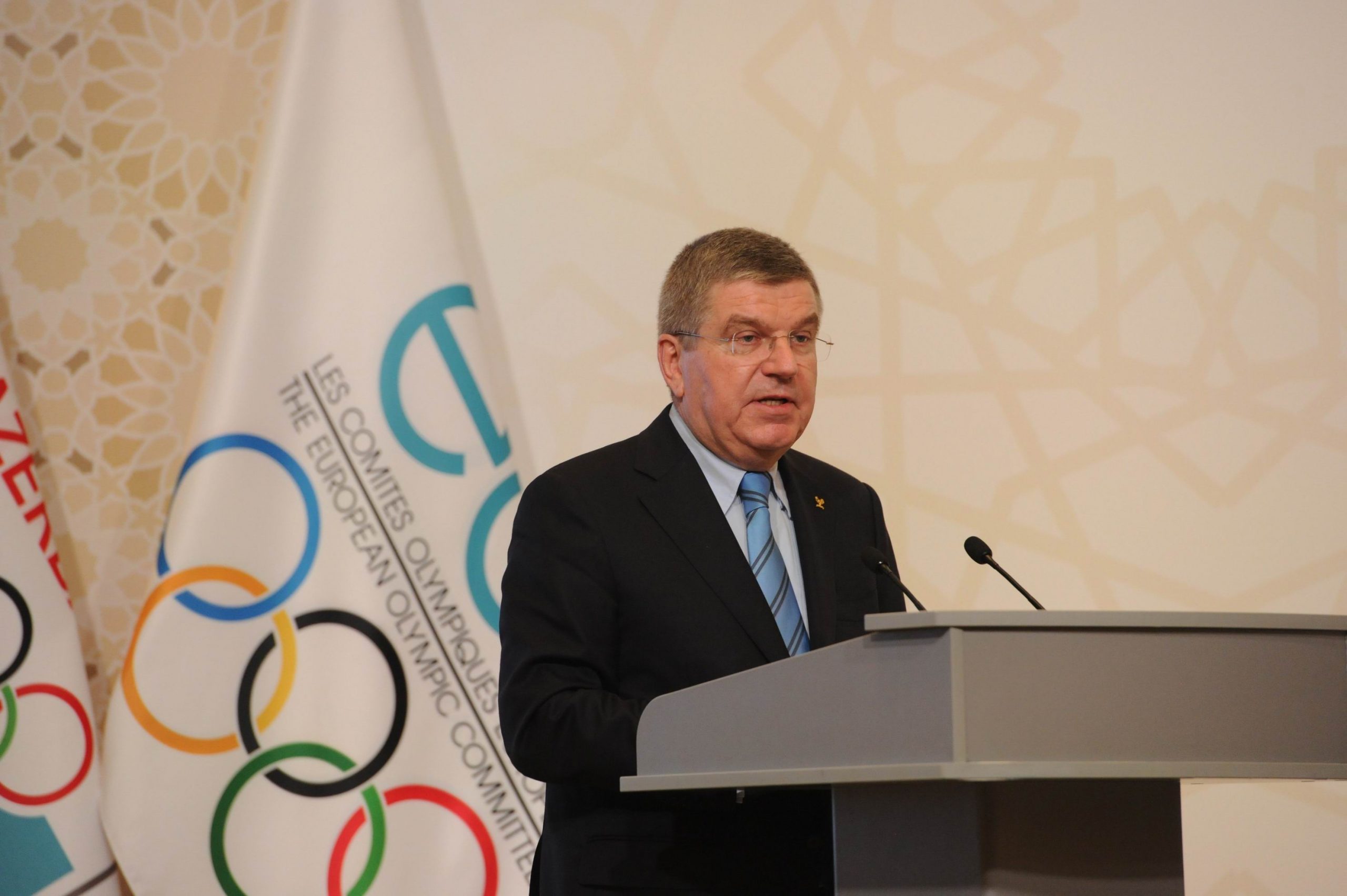 Dr. Thomas Bach during his speech.
Members from seven European National Olympic Committees added:
[FRANCE] Denis Masseglia – French Olympic Committee President
"It is important for French athletes to go to Baku 2015 and to do well. The conditions will be perfect for elite performances, I am sure: great venues, great accommodation and transport, and great organisation. We know that Baku 2015 is part of the road to Rio 2016 and we want to give our athletes the maximum of chances possible to qualify. But just as importantly, we want French athletes bringing home the first ever European Games medals. Baku 2015 is going to be the perfect proving ground for some future stars of French sport."
[GERMANY] Michael Vesper – German Olympic Sports Confederation Secretary General
"With over 6000 athletes and more than 250 medal events the European Games are Europe's most important sport event in 2015. This means an important test for our athletes one year before the Rio Olympics. Some of them, like our top table tennis players and triathletes can even book their tickets to Rio at the European Games. I have no doubt that our athletes are going to find the perfect conditions to achieve sporting excellence here next year."
[RUSSIA] Alexander Zhukov – Russian Olympic Committee President
"I believe in the future of the European Games. Baku 2015 will be an excellent event from every perspective – the organisation, the city, the quality of sport. Baku 2015 is our number one priority next year, our biggest event without question. Russia will have a strong team at the European Games. After seeing the venues and meeting the organisers this week, I am more convinced than ever that Baku 2015 will be an important stage on our road to Rio 2016."
[SERBIA] Vlade Divac – Olympic Committee of Serbia President
"Serbia's athletes should be getting really excited about these Games because they will amazing, unlike any other event on the European sports calendar. They will be a breath of fresh air for European sport, and a great chance to see Serbian athletes on the podium. The Organising Committee of Baku 2015 has considered every part of their hosting concept from an athlete and NOC perspective and that is really reassuring for me and my team. I think Baku 2015 will be one of the surprise events of next year and the European Games certainly has a healthy future starting from this strong base."
[SPAIN] Victor Sanchez – Spanish Olympic Committee Secretary General
"Spanish athletes should be looking at Baku 2015 as a chance to become the first ever European Games champion in their sport. Although the European Games are clearly an excellent opportunity to help athletes on their path to Rio 2016, they are a continental Games in their own right – and are being organised to an incredibly high level by Baku 2015's organisers. The stadia here are stunning and the facilities for athletes in the Village and around the city are of the highest level – Baku is a great breeding ground for sporting success. I can't wait to see our athletes perform here in 2015."
[TURKEY] Uğur Erdener – Turkish Olympic Committee President
"There are 250 medals available at Baku 2015, so it represents a very good opportunity to get Turkish athletes on the podium. We will be sending a strong team to Azerbaijan, no question. There are qualification points on offer for Rio 2016, but just as importantly it gives Turkish athletes the experience of competing – and winning – at a major multi-sport event in a world-class sports environment. I am very impressed at what they have achieved in Baku and the new sports infrastructure is excellent. The first European Games is going to have a big impact on the development of Olympic sports and young athletes, not just in Azerbaijan but across Europe."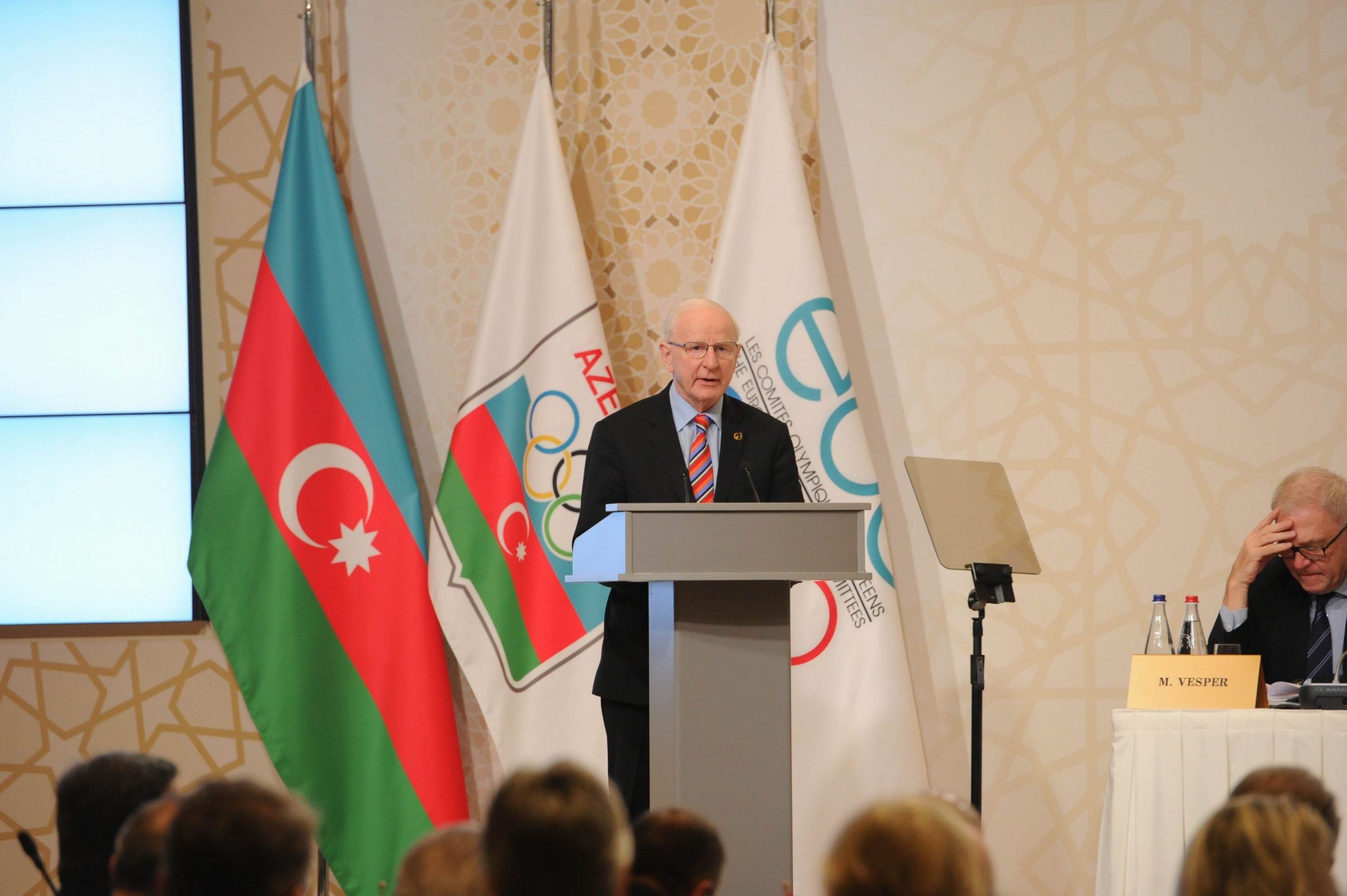 Mr. Patrick Hickey during his speech
A short video statement from EOC President Patrick Hickey can be downloaded from here: http://we.tl/ItiFXt0P5J