WAE Coaches Trainer Course-Level 2, 18-24 April 2016, Marathon (GRE).
In continuation of the successful implementation of WAE project for Coaching Course Conductors in 2011 & 2012 in France, with 14 participants from 11 MAs and Coaching Course Trainers in 2013 in Turkey, with 16 participants from 11 MAs, this project was implemented in the years 2015 & 2016 in Greece.
In a common project with World Archery, WAE, OS, the NOC of Greece and the Greek Archery Federation, in cooperation with WA Development and Education Director and in continuation of the 2 years WAE development project, a 7 days Level 2 WAE Coaches Trainer Course, jointly running with World Archery, took place in Marathon (GRE) from 18-24 April 2016, educating 12 participants from 10 European Member Associations on how to train Level 2 archery coaches.
The Olympic Solidarity in collaboration with the Greek NOC funded this 2 years WAE project.
The 2016 WAE Course was aiming on educating more European archery trainers on how they can train level 1 and level 2 archery coaches in their country and abroad. Therefore, the participants' registration was examined and evaluated by the Experts before the acceptance of their eligibility.
The 2016 WAE Course Experts were: Mr. Pascal Colmaire, WA Development & Education Director and Mrs Elena Gheorghita, Romanian Coaches Trainer Level 2.  
The participants were: Andreas KOLAR (AUT), Martin PTACNIK (AUT), Andreas ACHILLEOS (CYP), Timothy SWANE (GBR), Christos KARMOIRIS (GRE), Fiona CLARK (IRL), Massimo GIOVANNUCCI (ITA), Jan ASKELAND (NOR), Iona TRUFIN (ROM), Terriss CHOOI (SIN), Fedor BENJAK (SRB) and Ranjith MANAWADU (SRL).
The Experts educated and trained the 12 participants in Level 2 coaching, using electronic documents, power point and indoor & outdoor practice, for 7 days and with daily morning and afternoon sessions along with meals and coffee breaks.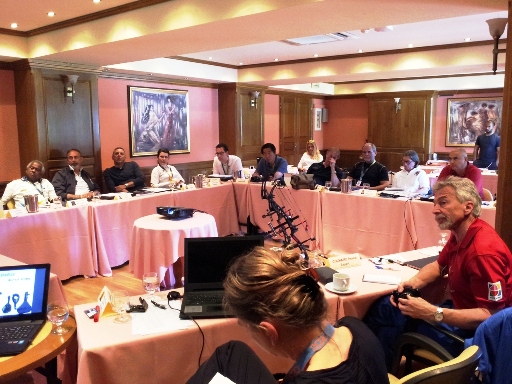 The documents for study were sent by the Experts to the participants electronically well in advance before the course start, for their preparation. Some topics of Experts lecturing were: Archery Anatomy, Warm up & Physical Conditioning, Psychology, Coaching in Tournament, all in combination of theory and praxis.
Each participant had to conduct at least one module of the program, either in theory, or in practice or both. The modules were: Longbow, Bare Bow, Standard Bow, Field Archery, Clout Archery, Training Plan, Fight against Doping, Recurve and Compound Equipment & Technique, Psychology.
In 2016 course, there was also a very positive reaction from the participants, who fully attended the course with intensity and professionalism. "They all expressed their enthusiasm for this experience and satisfaction for developing their knowledge and skills in the very experienced hands of the lecturer", Pascal Colmaire.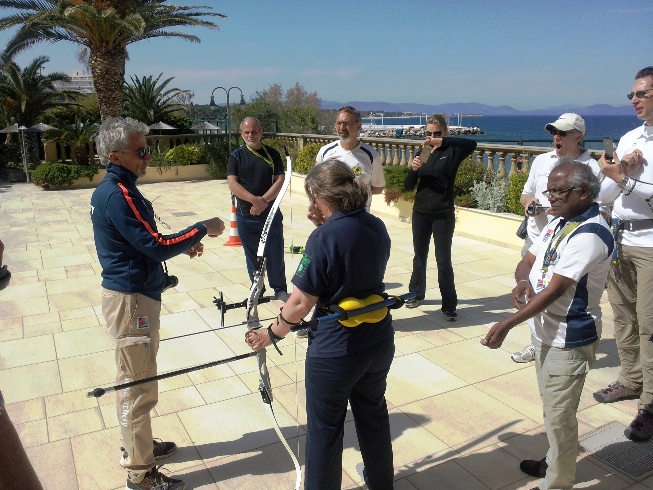 At the end of the course, the participants received their Certificates as "Level 2 Archery Coaches' Trainer Candidate", along with OS Certificate of participation. By the end of April 2017 they should conduct a successful level 2 archery coaching course, before they receive their final Certificate. This nomination and certification will be valid until the end of 2020 inclusive and will be reevaluated and certified every 4 years.
At the course was present all days the WAE DTAC Chairwoman, Mrs Evelyn Papadopoulou and paid regular visits the Greek Archery Federation President, Dr. Petros Synadinos and Deputy Secretary General, Mrs Maria Kyrillopoulou. Along with the Experts, they all handed out the Certificates to the participants.
The preparation and organization also of this course was in high standards, with an excellent hospitality and perfect conditions in accommodation and in facilities-equipment for the course. The Greek Archery Federation, along with the Greek participant Christos, made everything possible so that everything run perfectly, on time, in excellent conditions and in a wonderfully friendly environment.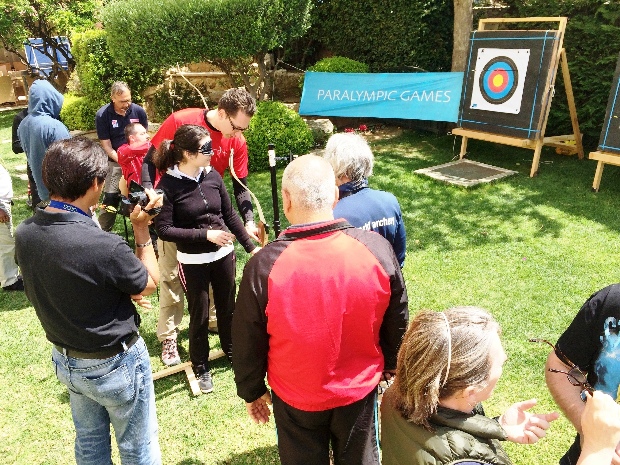 The 4* Aquamarina Hotel, located by the beach of Marathon region, provided and excellent hospitality and service in a full board accommodation base for, air-condition, free Wi-Fi internet in all areas and rooms, free of charge outdoor and indoor swimming pool, jaccuzzi and hamam. Warm and friendly atmosphere along with comfortable and excellent service with plenty and various meals. Transportation was perfectly organized with cars from/to Athens International Airport/Hotel.
World Archery Europe thanks the Experts for their efforts and contribution in this WAE development and education project, the Greek Archery Federation for so warm hospitality and excellent organization of both courses and Olympic Solidarity for funding this important archery development project, in 2015 and 2016.
Here are some comments of the Experts and participants:
Pascal COLMAIRE (Expert): "Great group of participants, they were all really involved in coaching education, at least in their own country. Excellent relationship among the participants, organizers and experts. Very appreciated collective working spirit. This level 2 Coach Trainer course was already been an obvious success. The participants were wordless of satisfaction. Efficient and friendly organisation. Very enjoyable site".
Fiona CLARK (Ireland): "Excellent course, fantastic organization and hospitality. The course was so inspiring and dinamic. I was lucky for this oportunity. Thank you to WA, WAE and Greece. I will miss all my friends".
Massimo GIOVANNUCCI (Italy): "Great organization. Thank you Pascal, thank you Greece. I still have the drop of adrenaline with the sensation of being part of a wonderful experience. In this past week with all participants I lived technical, human, professional experiences and all with great intensity. I'm always amazed at how the sports language can be a tool for opening and maintaining relationships and experiences among different people, but still men and women".
Jan ASKELAND (Norway): "We all worked hard before and during the level 2 course, but experiencing such an education and techniques this week, it worth every effort. Both Experts made an exceptional work and taught us with efficiency and professionalism. Wonderful organization, excellent hotel location and facilities. I will miss the sun and heat in Greece. Again thank you for everything you have arranged with regard to the course, accommodation and friendliness".
Andreas KOLAR (Austria): "It was a unique experience. I enjoyed it so much and was amazed with so many important topics, details and techniques. Thank you for all, I had a great time".
Evelyn Papadopoulou