The Secondary Tournament which assigned the Quota Place for Paris 2024 has ended.
Another World Record conquered in the Ahoy venue EPAC2023 yesterday. Ruben VANHOLLEBEKE from Belgium gets 496 points which allow him to realize the world record V.I.1.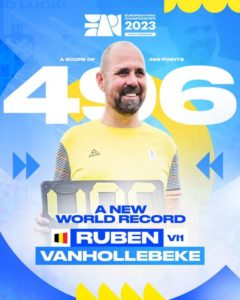 The secondary tournament for the allocation of quotas for the Paris 2024 Paralympic Games ended today. The matches for the men's compound, men's recurve, and W1 men and women took place yesterday afternoon. 6 quotas assigned in Recurve Men FABCIC Dejan (SLO) and NAUMCHUK Vasyl (UKR) in Compound Men FORSBERG Jere (FIN) and DORIC Martin (SVK) in W1 men GASPAR Tamas (HUN) and in W1 women KINGSTONE Victoria (GBR).
Today was the time for the compound and recurve women  4 quotas assigned. in Recurve women KLIEM Flora (GER) and
SHEVCHENKO Anna-Viktoria (UKR) in Compound Women MARKITANTOVA Kseniya (POL) and SARTI Eleonora (ITA).
KOP VAN ZUID – FINAL VENUE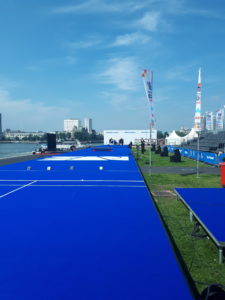 Everything is ready for the finals on 19 and August. Tomorrow 9 August the Individual Finals V.I.1 and V.I. 2/3 and the men's and women's W1, Compound and Recurve double finals. Follow the matches in live streaming from 9:10am.
On August 20 the last day of finals with the individual matches. Follow the matches of August 20 in live streaming from 9:20am.
don't forget to share the event and use the hashtags