Mike Schloesser took a rollercoaster ride to his fourth Hyundai Archery World Cup title in Tlaxcala, Mexico.
The Dutchman survived an almighty semifinal scare before edging out Nicolas Girard with a perfect score in a classic final.
It's never dull when 'Mister Perfect' is on the range and Schloesser nearly failed to get the deciding arrow out altogether in his semifinal.
I still have tears in my eyes. After that semifinal, I came and just wanted to be myself and do my thing. I tried to keep my nerves to myself and I wasn't paying much attention to what Nicolas was doing. I'm really proud of that last arrow because I was struggling today.
Mike said.
Two of four quarterfinals were decided by a shoot-off in what is arguably the most open discipline of the four shows in Mexico, with Schloesser needing an extra arrow to see off James Lutz.
With only eight required with the final arrow to beat home hope Miguel Becerra and reach the final, Schloesser's thumb slipped and he had only three seconds to find the nine.
The 28-year-old has seen it all in the sport, but Frenchman Girard is in the midst of a breakout, announcing himself with victory at the Paris World Cup.
The level of their gold medal contest was staggering. Both nailed tens with their first 11 attempts and recorded nine 10X between them.
The tension became unbearable in the fourth end, when Schloesser shaved the nine-line with his final attempt and Girard became the first to drop a point.
Those centimetres would prove the difference, with both shooting 30 in the final end, and Schloesser taking a white-knuckle triumph with a perfect score but by just one point.
"This is the end of a nice season. I had a really good season this year and this is the cherry on top. I'm really happy about it," Mister Perfect concluded.
There was a fairytale bronze for Puerto Rican pioneer Jean Pizarro, his first-ever individual senior medal.
Pizarro, who is self-coached, landed the first perfect score of 150 of the event to deny Becerra (146 points) a podium place in front of his home crowd.
Final ranking: Compound men
 Mike Schloesser, Netherlands
 Nicolas Girard, France
 Jean Pizarro, Puerto Rico
 Miguel Becerra, Mexico
 James Lutz, USA
 Braden Gellenthien, USA
 Mathias Fullerton, Denmark
 Jean Philippe Boulch, France
Sara Lopez clinched her seventh Hyundai Archery World Cup title by beating Ella Gibson in a titanic Tlaxcala tussle.
The Colombian superstar overturned the form guide for a 148-146 victory over Gibson, who beat Lopez in their previous two meetings this season.
Lopez, 27, reversed the result of the World Games and her home World Cup in Medellin to claim an emotional victory.
Gibson has dominated the World Cup season, taking gold in Antalya, Paris and Medellin.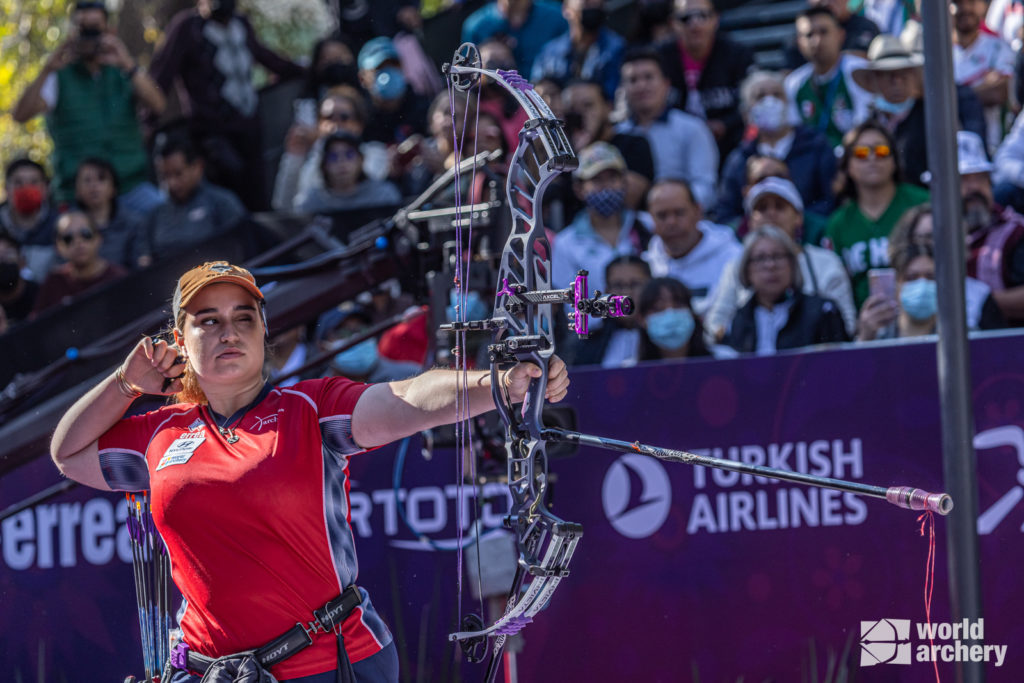 This was the Brit's first World Cup Final and Lopez's eighth, with the Colombian's unparalleled experience and composure proving the difference in the big dance.
They marched lockstep in the first end, both shooting 29, but the tide soon turned.
Gibson shot three well-spread nines in the second and Lopez a perfect 30 to jump into an early lead of three.
The Brit responded with a 30 of her own in the third end, cutting the lead to two as Lopez hit 29.
That would to be the last miss of the gold medal final – with both shooting perfect ends in the fourth and fifth – to hand Lopez victory.
Final ranking: Compound women
 Sara Lopez, Colombia
 Ella Gibson, Great Britain
 Alejandra Usquiano, Colombia
 Andrea Becerra, Mexico
 Dafne Quintero, Mexico
 Kim Yunhee, Korea
 Tanja Gellenthien, Denmark
 Lisell Jaatma, Estonia
Article and pics by World Archery