Spain is the first European nation to win 2 places, one for men and one for women, at the next Olympic Games in Paris. 
The duo CANALES Elia and ALVARINO GARCIA Miuguel confirm the excellent moment of Spain in archery by winning the Mixed Team Gold medal and the qualification for Paris 2024. The march of the Spaniards begins with a 6 to 2 against Austria continues with a 6 to 2 against the Turkish mixed and continues with another 6 to 2 against Germany which allows them to reach the final. On the other side, the Ukrainian Mixed Team conquers the final by beating Romania 5-4 in the round of 16, France 5-3 in the quarterfinals and Moldova 5-4 in the semifinals. Nothing can against the Spanish in the final who win 5-1 (partial 37/37, 38/35, 38/37). In the match for the Bronze Medal Germany win 5-4 in the shoot off (19+ to 19) against Moldova.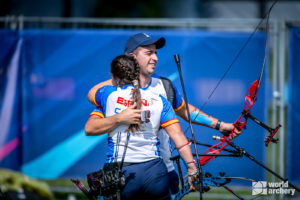 Yesterday ended with the Mixed Team medals in the Compound. it is Estonia to conquer the Gold Medal of the European Games beating Denmark in the shoot off T20-T19 (156-156). The bronze medal is won by the Italian couple against the Turkish duo with the result of 153 to 152.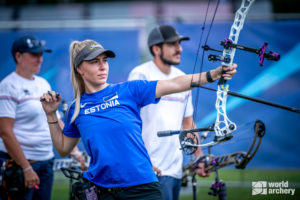 We just have to follow the individual matches to see who will win the passes available for Paris.
#EG2023 #EuropeanGames2023 #weareunity