Archery competition at The World Games 2022 in Birmingham, Alabama (USA) is over.
Same format as always: field competition for recurve and barebow (only individual), while outdoor for Compound (individual and mixedteam).
Number nine seed Ella Gibson beat reigning title-holder and world number one Sara Lopez to win compound women's gold at the 2022 World Games in Birmingham, Alabama, USA.
"It feels amazing," said the current world number two, who before the event, was just 3.5 points behind Lopez in the world rankings.
It was definitely some hard work but I knew it was going to be hard. I was just trying to focus on myself and I figured, if I win or lose, it will be what it will be, I am going to shoot how I shoot. I had one really nervy end with 28. It was not the nicest but the others were really good. I felt like I had a really nice flow – much more compared to my previous match.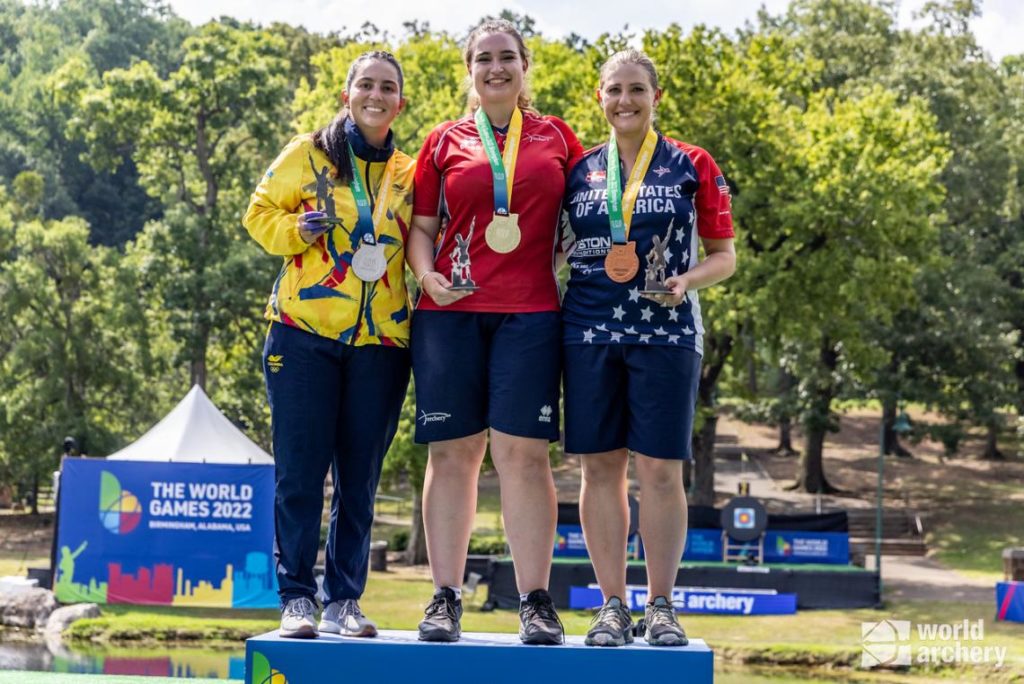 That semifinal had seen a rematch of the final from 2017, with Lopez seeing off USA-based Slovenian archer Toja Ellison, 148-143.
Ellison then faced the host nation's Paige Pearce for bronze and the home fans were not disappointed. Pearce used the additional fire generated by competing on home soil to down third seed Ellison, 148-145, for a podium spot.
"It feels awesome," said the world number 26. "To be on my home soil in the USA and to be able to reach a medal and stand on the podium is pretty amazing."
"Going into the bronze medal match you know it's do-or-die and I was more determined to end with a win after losing my semifinal," added the 27-year-old, who lost a tiebreak to Gibson in the semis.
"The only thing you can control is yourself and your shooting. That was my game plan. I stuck to it and it worked."
Compound women
Ella Gibson, GBR
Sara Lopez, COL
Paige Pearce, USA
Miguel Becerra is compound men's champion at the World Games. The Mexican archer defeated France's Jean Philippe Boulch, 147-146, in a final held in humid conditions after edging ahead in the fourth end. Canada's former world champion Christopher Perkins won bronze.
Compound men
Miguel Becerra, MEX
Jean Philippe Boulch, FRA
Christopher Perkins, CAN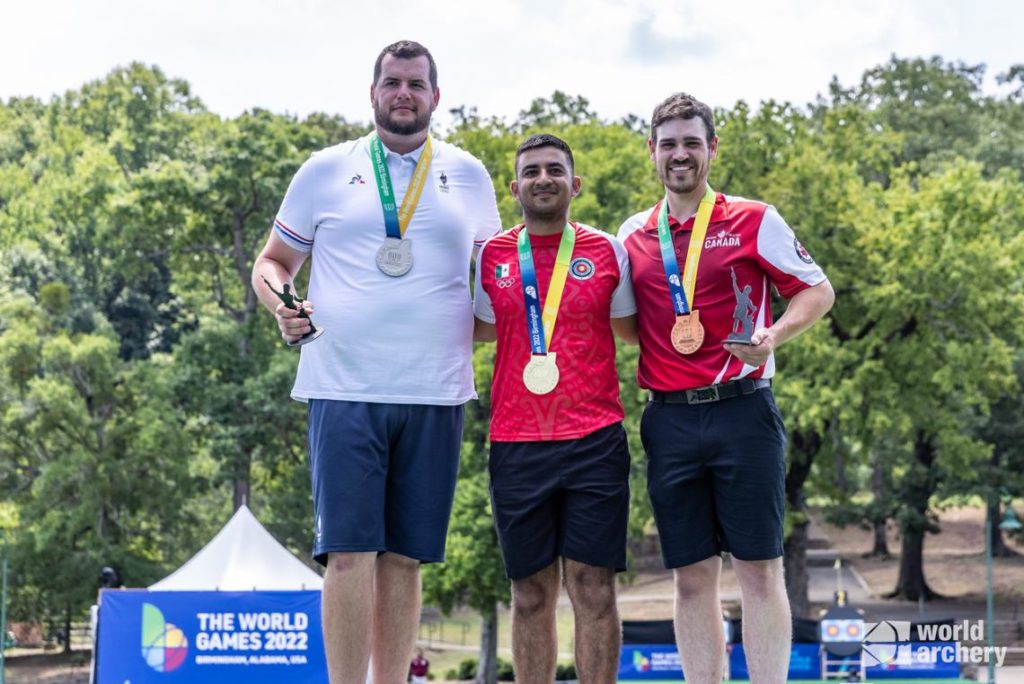 Compound mixed team
Colombia (Sara Lopez, Daniel Munoz)
Netherlands (Jody Beckers, Mike Schloesser)
India (Jyothi Surekha Vennam, Abhishek Verma)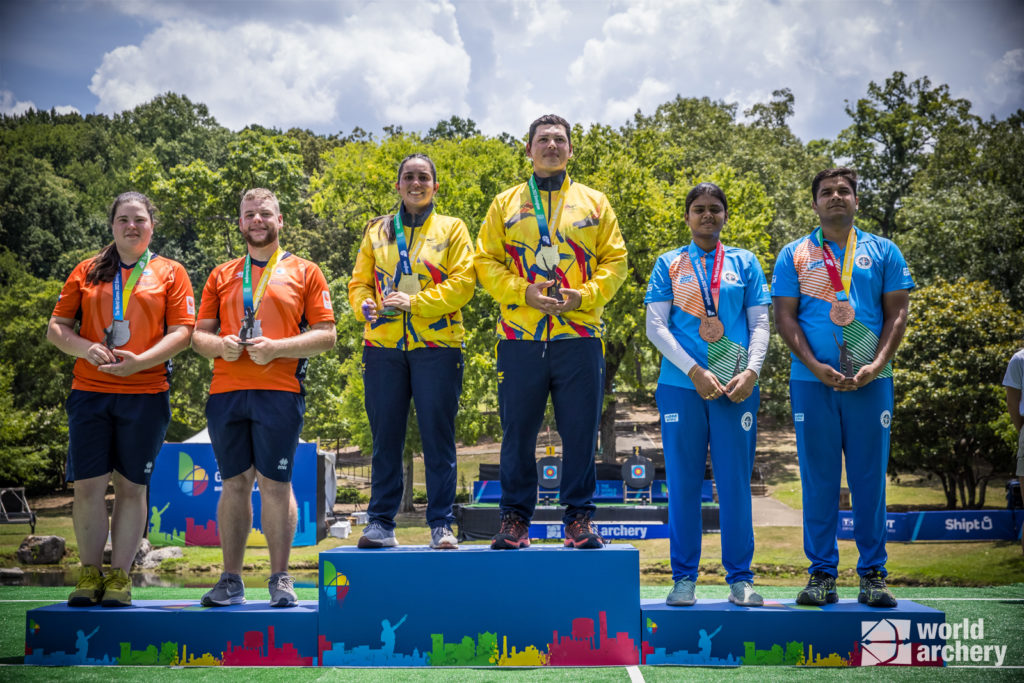 —
Germany's Florian Unruh and Italy's Chiara Rebagliati have won the men's and women's recurve field archery titles in their debut appearances at the World Games.
"I am pretty happy with how I shot," said number two seed Unruh about his performance in the finals arena which saw him shoot clean on the middle two targets of the four-target course.
I could have been a little bit better at the first target but then I had two perfect 18s. With the last arrow, I was like, 'do not do a bad shot, do not do a bad shot', and I aimed a little bit off because of the wind. It does not matter.
If that last arrow had hit six – rather than four – he would have shot a third perfect 18 on the 60-metre target over the lake, too.
Unruh beat top seed Brady Ellison, 66-61, to gold despite the host nation's favourite leading after the first three arrows.
Ellison had seen off Great Britain's Patrick Huston, 64-55, in their semifinal in the arena, while Unruh dispatched Italian archer Marco Morello, 64-58, in their final four match. Morello, another World Games debutant, would go on to win bronze, defeating Huston, 61-52.
"It feels good. I am very tired but I feel good," said the 29-year-old.
I am at the World Games for the first time and I won a medal. It is very important for me. I did not start very well at the first target but the second one was very good. I took some points of advantage but I knew my opponent could come back so I had to shoot good.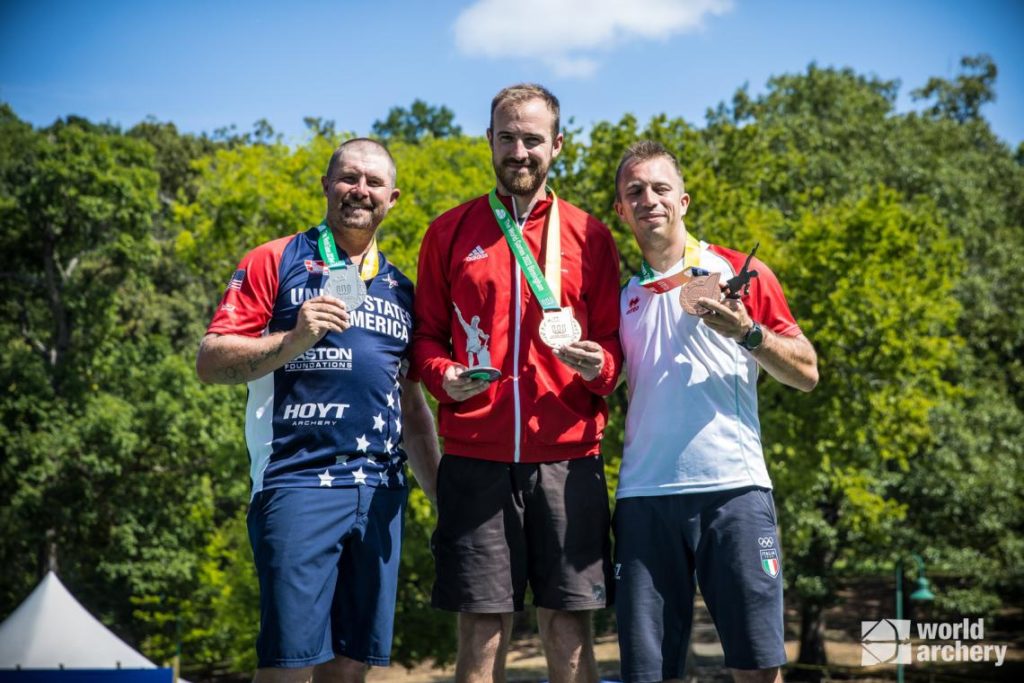 Chiara Rebagliati would crown Italy's medal count in the competition when she defeated Bryony Pitman, 64-53, in the recurve women's final.
I am very happy, I have to realise this victory and I am so proud of myself. Every day I shot a little bit better so I came to the final very strong. It is a big win for me.
said the 25-year-old.
The World Games debutant had seeded third, behind Pitman in second and pole qualifier Elisa Tartler of Germany. But she ended up beating both in the finals arena, first Tartler by four points (61-57) and then Pitman by a comfortable nine.
"I shot good. Maybe arrow by arrow I did not understand well what I was doing and what was happening but, maybe, that is the reason that I won," said Rebagliati.
"Bryony is a very strong archer and we were together every time at the European or world junior championships. It is always a pleasure to have a final with her."
Pitman defeated Slovenian last-minute entrant Urska Cavic in the semis, 56-53 – but couldn't find footing in the final. (Cavic replaced Ana Umer.)
"I am a little bit disappointed. I could have shot better out there today, but even if I shot better, Chiara did not give me a chance," said a gracious Pitman. "Based on today's matches, she deserved the gold."
Tartler would beat Cavic to the bronze medal, 57-53.
"It is incredible. I am really out of words," said Tartler, who led throughout the third-place match. "I was really, really nervous in the beginning. I was like, 'oh, my body is shaking', but the second match was much, much better and I was more confident."
Recurve men
Florian Unruh, GER
Brady Ellison, USA
Marco Morello, ITA
Recurve women
Chiara Rebagliati, ITA
Bryony Pitman, GBR
Elisa Tartler, GER
—
Sweden's Erik Jonsson and Italy's Cinzia Noziglia are 2022 World Games individual barebow champions.
Jonsson took men's individual gold, defeating teammate Leo Pettersson 57-52 in the final, while Noziglia saw off the host nation's Christina Lyons 48-44 in the women's individual gold medal match.
The 2022 title for Jonsson is his third after 2001 and 2005 and equals the record of fellow Swede, Morgan Lundin, who won three titles (1993, 1997 and 2005) back when the World Games was an all-field archery event.
This morning I thought about it but not when I shot. I've known Morgan for many years. We've shot on the national team together and won the world field team together.
said Jonsson about equalling the landmark.  But Jonsson very nearly did not make the final.
In his semifinal against Germany's Michael Meyer, he won by four millimetres (4mm). That was the distance his tie-break arrow was closer to the centre of the target than Meyer's after the two had drawn 47-47.
"Four millimetres I heard, so that was close," said Jonsson, reflecting on how close he was to going out, before returning his focus to his gold medal-winning performance.
I shot pretty good shots, one was a little too fast and was found in the two on the short one, otherwise it was pretty good. It's perfect. I've been struggling these couple of days. I woke up with a cold this morning, a small fever, but now I feel good. It was fun to shoot against Leo too, so I hope to shoot against him some more.
For 18-year-old Pettersson, he has a long career ahead of him, if the 46-year-old Jonsson's form is to go by.
And the teenager was not disappointed with his silver.
"I'm quite happy," said Pettersson. "Erik, he's just something else. His (semi-final) shoot-off and then his 17 on the [first] target…it's inhumane. It's not human. I can't really be sad for silver."
"I'm OK with losing to him. I shot a bit too fast on a couple of arrows. If I would have taken more time I probably would have scored a bit higher, but it wouldn't change anything. Erik is, in my opinion, the best archer ever, at least in barebow."
Ryan Davis secured men's bronze after coming from a 10th-place ranking and through a marathon eliminations day on Thursday to beat Meyer to bronze.
The Italian won 48-44 after seeing off Swede Lina Bjorklund 51-50 in the semifinal – a repeat of the 2017 World Games final.
I am very happy. It is amazing and I do not realise [it yet]. Probably I will tomorrow. I felt pressure because I know Lina is a great competition and nothing is sure. Christina too. She shoots very well in field. They are both great opponents. Anne as well, who was second in qualification. The pressure was very high.
said the Italian.
On the podium, Lyons was holding back the tears, finding herself in a position she could quite not believe.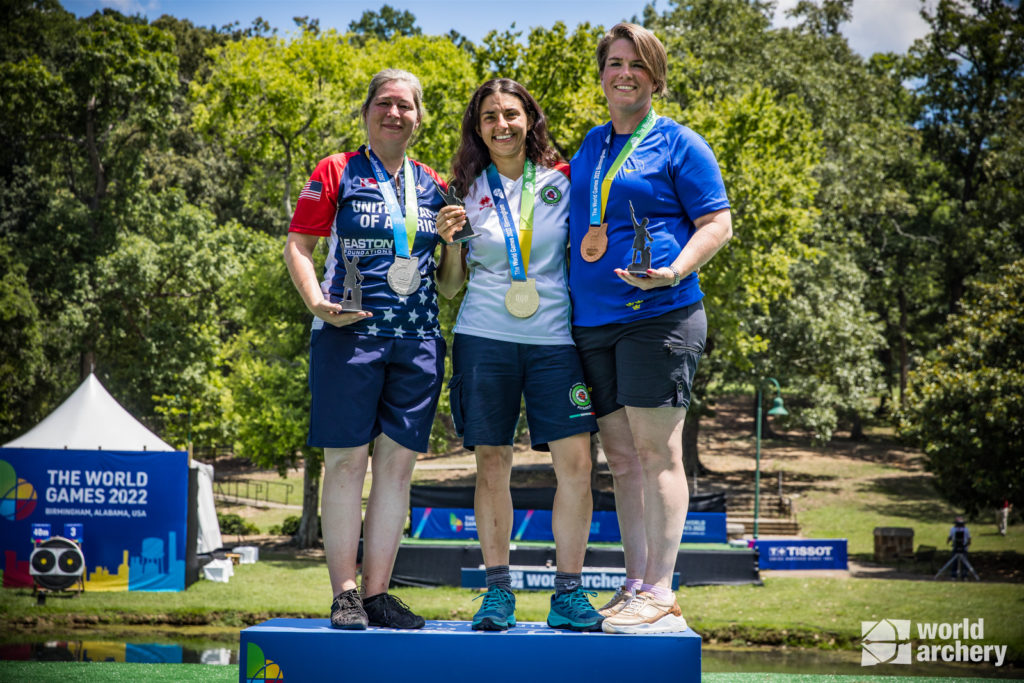 "Oh my God," she said. "To come here and to shoot with Lina and Cinzia who are amazing competitors and who I have looked up to since I started archery…I found it truly humbling to be on the podium, to have that silver medal in the World Games."
"It is like a dream coming true. It is overwhelming."
Bjorklund managed to overcome her semifinal loss to win bronze, downing Finland's Anne Viljanen 53-32, thanks to some changes to her routine.
"I have a new technique," she explained. "It is shooting more like recurve. I pretend that I have a clicker that I have to pass. I check everything and then I keep on working and try to get to the point when I can release."
"I am satisfied with all these [past] three days since my only focus was technique. [My coach] gave me this new thing to work on during the official practice so I have been doing this for three days. I am so pleased."