With 13 medals (7 gold, 3 silver and 3 bronze) Italy is the winner in the final medal standings by nations, just in front of home-nation Czech Republic (4 medals) and Great Britain (3 medals).
Even not an easy week, also due to the weather, Nove Mesto nad Metuji is always a great event for the Para-Archery world with a lot of emotions, great results and a high level of competition.
Tokyo 2020 Paralympic Champion Phoebe Paterson Pine won one of the eight individual golds at the 2022 Nove Mesto World Ranking and European Cup para archery event archived in Czech Republic.
British compounder Pine beat Jane Karla Gogel 145-139 in the final between the first and second seeds.
The Brazilian had pipped Pine to top qualifying earlier on Tuesday when she equalled the para world record (72-arrow, 50-metre) with a 695, one ahead of Pine.
I feel incredibly proud to have won gold, this is only my second ever individual gold internationally. I've been working really hard with my coach Andrea Gales to up my individual game and the hard work is paying off. Going against someone like Jane is always tough, she's an incredibly good archer and we've shot against one another a few times now, she's a great competitor and overall lovely person so it's always a pleasure.
said Pine, who also won the compound women's doubles and took bronze in the compound mixed.
As Paralympic Champion, Pine was offered a spot for the World Games this week, but instead chose to focus on the Czech Republic event ahead of the European Championships in August and qualifying for the European Para Archery Cup finals on home soil in Nottingham in September.
This is all part of a long-term plan to improve her results as an individual and it is clearly paying off.
In the past, I've been a name to be seen on the team side but now I want to make a mark more individually, especially with the confidence I have now since winning in Tokyo. 2022 so far has been a good year for me. Internationally I've managed to medal at the world championships in Dubai, winning individual bronze and now I've won three medals here in the Czech Republic. I'm now working towards the European champs in a few weeks in Rome and I'm really hoping to medal there as well.
she added.
"I've also got a handful of events in England and I'm ranked quite well on our national tour right now. I'm also hoping to be competing in the finals for that later this year which are running alongside the European para archery finals, with both taking place in Nottingham."
Fellow Paralympic Champion and home favourite David Drahoninsky defeated Hungary's Tamas Gaspar (140-134) to win the men's W1 gold. It was his third of the event after securing both W1 team events (men's and mixed). Italy's Asia Pellizzari won the women's W1 title thanks to a 133-116 victory over Tereza Brandtlova.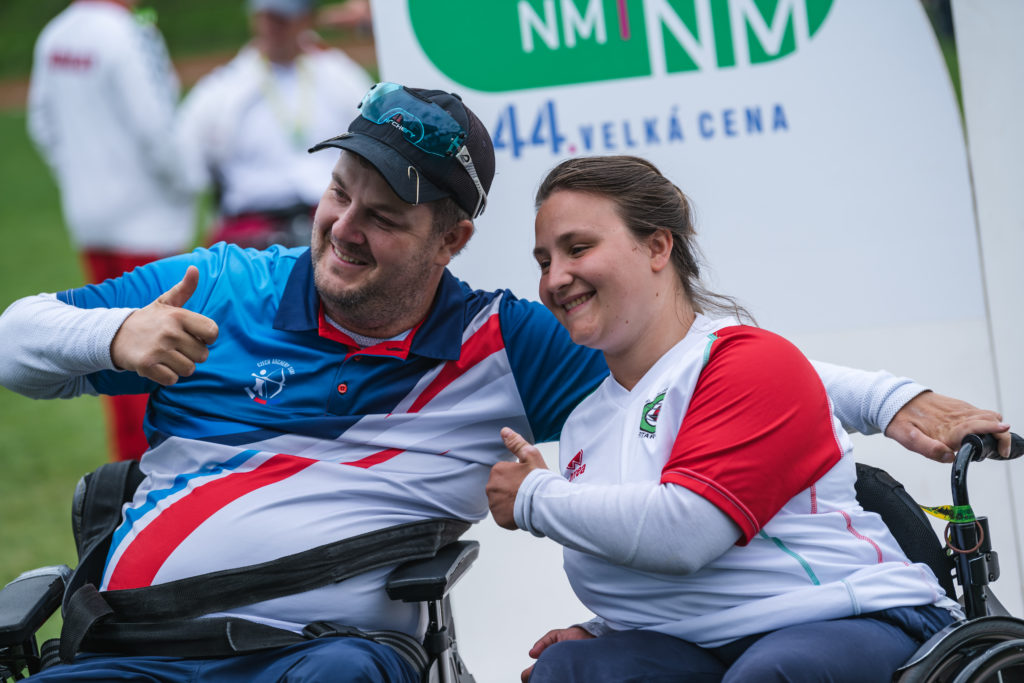 Other gold medallists saw triple para world champion, Tokyo 2020 silver medallist and world number one Vincenza Petrilli see off Japan's Chika Shigesada 6-0 in the recurve women's final. That result ensured another triple for the Italian, who also won the women's team and mixed team events in Nove Mesto.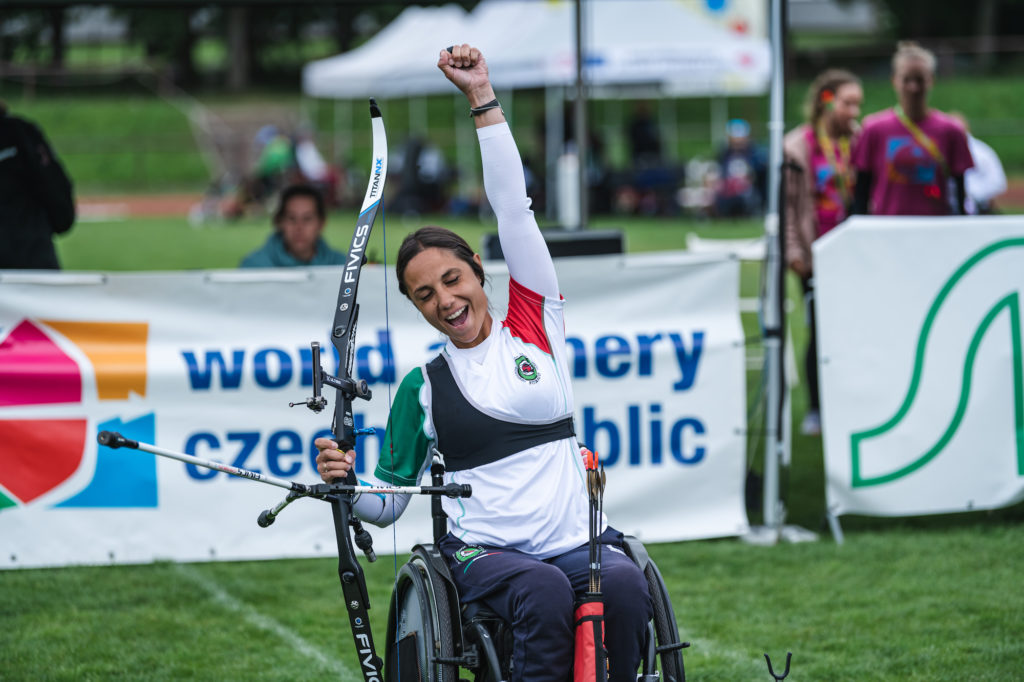 Due to covid, Shigesada's teammate, Tomohiro Ueyama, was unable to start his final against Thailand's Hanreuchai Netsiri, who was awarded gold in recurve men open.
Belgium's Piotr van Montagu defeated Italy's Matteo Bonacina 145-141 for compound men's gold while Ruben Vanhollebeke and Daniele Piran won their respective visually impaired competitions.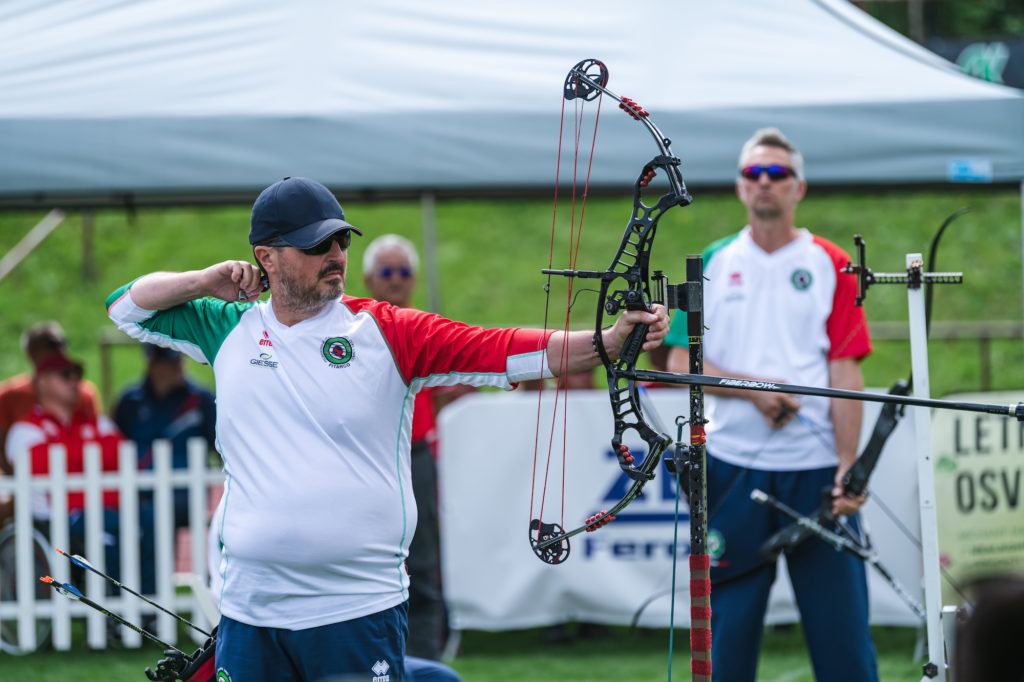 Individual champions
Recurve men: Hanreuchai Netsiri, THA
Recurve women: Vincenza Petrilli, ITA
Compound men: Piotr van Montagu, BEL
Compound women: Phoebe Paterson Pine, GBR
Men W1: David Drahoninsky, CZE
Women W1: Asia Pellizzari, ITA
Visually Impaired 1: Ruben Vanhollebeke, BEL
Visually Impaired 2/3: Daniele Piran, ITA
Team champions
The next European event is the Youth Cup in Bucharest (ROU), on July 25-30.
—