Tatiana Andreoli beat her teammate Lucilla Boari in four sets (7-1) to take the recurve women's gold medal at the 2019 European Games in Minsk, Belarus and secured Italy's second archery champion title of this event.
"It was the perfect day. Also because my mental game was perfect. I was so comfortable. I used to shake in finals but I was just so comfortable," said Andreoli. "Sometimes I had some mistakes but I made a lot of focus to stay focused. As a personal achievement, tick."
The number 12 seed had a tough route to the final.
She needed shoot-offs to get past Hanna Marusava and Audrey Adiceom in her first two matches. Tatiana then beat Inna Stepanova, 6-4, in the quarterfinals – before hitting her stride in a four-set win over Gabriela Bayardo in the semis.
Boari adds the individual silver to the mixed team gold medal she won with Mauro Nespoli earlier in the Minsk competition week. That mixed team win also secured Italy a women's quota place at the Tokyo 2020 Olympic Games.
"I didn't shoot very well but sometimes it happens. It's a good silver medal and next time I'll try to do it better," said Lucilla.
Gabriela Bayardo beat Russia's Anna Balsukova, 7-1, to take the recurve women's bronze medal. Perhaps more importantly, she qualified the Netherlands a women's quota place for Tokyo 2020 by making the final four.
One spot was available in the women's competition in Minsk. She was the only quarterfinalist from a country that did not already have a spot secured – and therefore the only archer eligible to win it.
"I got notified that I won the Olympic ticket just after the quarterfinals. I was really excited. I wanted to cry. I was really happy. It was just a mix of emotions," said Bayardo. "The time was too short and I needed to shoot, and I couldn't handle that."
The 25-year-old, who was born in Mexico, has qualified the Netherlands its first Olympic quota place in the women's competition in 23 years.

Slovenia's Toja Ellison beat Russian reigning World Archery Champion Natalia Avdeeva in a shoot-off, 10 to eight, to win the inaugural compound women's title at the 2019 European Games in Minsk, Belarus.
"This is one of my biggest achievements, so I am freaking happy about it," said Ellison. "Honestly, I've been waiting for this. I was hungry for this, and I wasn't giving up."
This is the first time that compound competitions have been included on the programme at the European Games. Minsk saw 16 of the best women from across Europe – a maximum of one from each country – shoot for the inaugural champion title.
In the shoot-off, Ellison opened with a solid but beatable 10. Avdeeva could only manage an eight.
"I like to just straight-up win, but it's better to have a shoot-off than the end of the match," said Ellison, laughing. "Getting to a shoot-off was what I wanted, and then I was really determined I was going to shoot my best shot, and hope it was enough."
"The way the match was going, I was just happy. I let it all out. We bottle so many emotions as archers, we need to smile for the match, try to enjoy it, even though it's a very stressful situation."
Avdeeva did not show the solidity and calm that took here to the world title in 's-Hertogenbosch. She even seemed rattled on the stage.
Third seed Sophie Dodemont (France) beat fifth seed Yesim Bostan of Turkey to the compound women's bronze medal.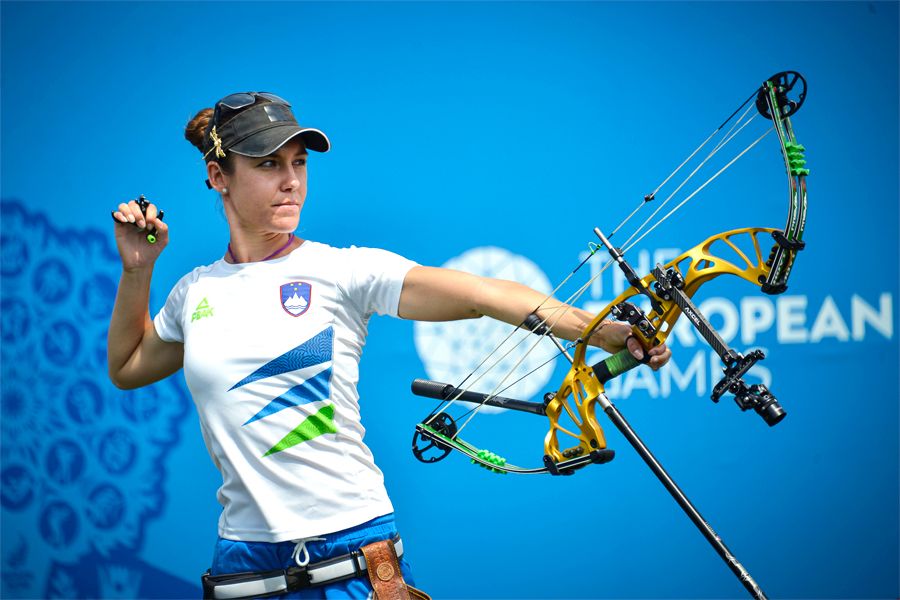 One day of archery competition remains in Minsk. Recurve and compound men's champion titles will be awarded on Thursday 27 June, along with up to two men's quota places for the Tokyo 2020 Olympic Games.
—