It might have cost them a bow, but Germany won the women's team bronze medal on Sunday at the Tokyo 2020 Olympic Games.
Germany's Michelle Kroppen, Charline Schwarz and Lisa Unruh fell into each other's arms in celebration following their victory over Belarus, 5-1, in the archery arena at Yumenoshima Park.
Unruh tore the side of Schwarz's bow in all the commotion and it, quite dramatically, unstrung itself – but it's a small price to pay for the country's first team archery medal in 21 years.
Words cannot describe how happy we are. It's still unbelievable! We did our best, and to have a medal after 21 years in Germany, it's crazy and we are absolutely excited about it.
Kroppen said.
Unruh, who won silver in the individual competition at the Rio 2016 Olympic Games, clinched the medal with a 10 on her final arrow.
It was a redemptive performance for the veteran archer, who shot an inexplicable two in Germany's semifinal loss to the ROC, thus missing the gold medal match against eventual Olympic Champions Korea. Unruh was at a loss for words when explaining the unruly arrow after that match.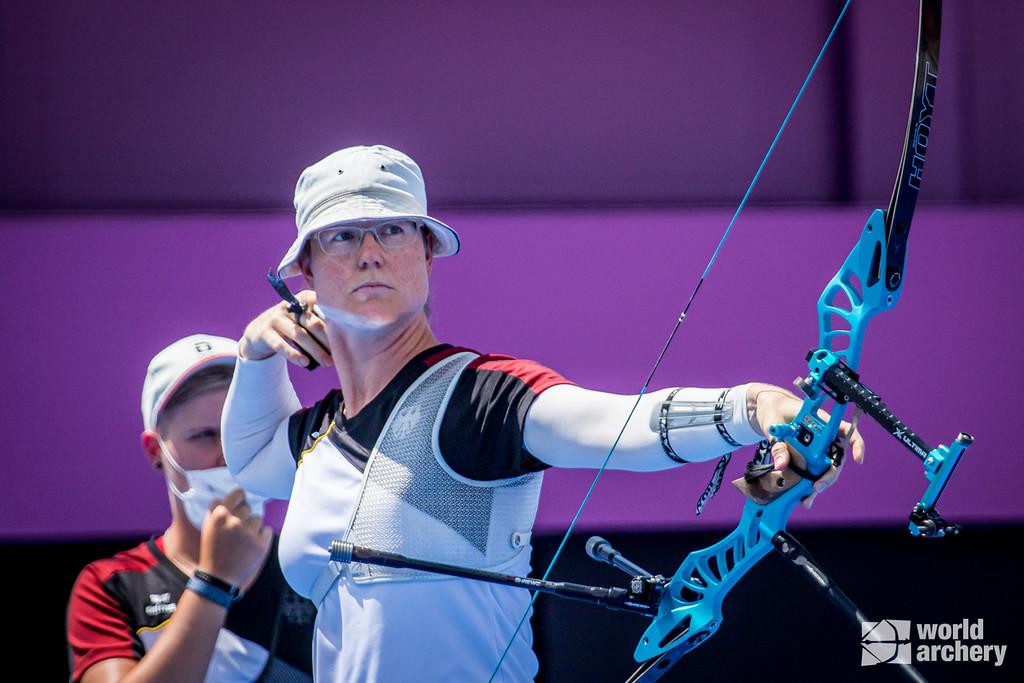 It was just a bad shot. I felt the wind very strong on myself, and I couldn't do my best technique, my tension was very low and it ended up really far away. Through my mind… fuck. I tried to forget it, and in the next set I shot two 10s and it was very important for us.
she said
Unruh was the difference-maker for Germany.
In the quarterfinal and bronze medal match wins, she was the team's highest scorer, averaging 9 and 9.3 points per arrow, respectively. But in the semifinal loss, that wayward two dragged her average down hard, limiting the squad in what was a very winnable match.
Germany beat Chinese Taipei, the reigning team world champion, to make the quarters – where Kroppen, Schwarz and Unruh dealt a big loss to Mexico, the second seeds and a favourite for the podium entering this tournament.
The bronze is the nation's first team medal since Barbara Mensing, Cornelia Pfohl and Sandra Wagner-Sachse won bronze at the 2000 Olympics in Sydney.
Buoyed by their effort on Sunday, the current trio will look to carry their success into the individual event – once Schwarz's bow is back in action.
Final podium:
KOREA (AN San, JANG Minhee, KANG Chae Young)
ROC (GOMBOEVA Svetlana, OSIPOVA Elena, PEROVA Ksenia)
GERMANY (KROPPEN Michelle, SCHWARZ Charline, UNRUH Lisa)
—
Article by World Archery