The Dutch mixed team had one eye on the Olympics all season long.
A self-proclaimed dark horse to medal at the inaugural edition of the event at the Games, the Netherlands won gold at stage two of the 2021 Hyundai Archery World Cup in Lausanne, then took silver at stage three in Paris – confirming the nation's status as contenders in the process.
Gaby Schloesser and Steve Wijler delivered on that sense of promise on Saturday at the Tokyo 2020 Olympic Games, winning silver in the mixed team event, only losing only the very last match against top-ranked Korea at the Yumenoshima Park Archery Field.
The amount of hours we put into this, it's great something like this comes out of it. It's amazing that we performed well today, and I truly believe we won silver here.
said Wijler.
Schloesser, who shot for Mexico at Rio 2016, is now not only the first female archer to represent the Netherlands in more than two decades, but the first-ever Dutch woman to medal in the sport at the Games.
We worked a lot to be here and to get a medal, get a medal home, and I'm just really happy and I'm really happy that I could do it by his side.
she said.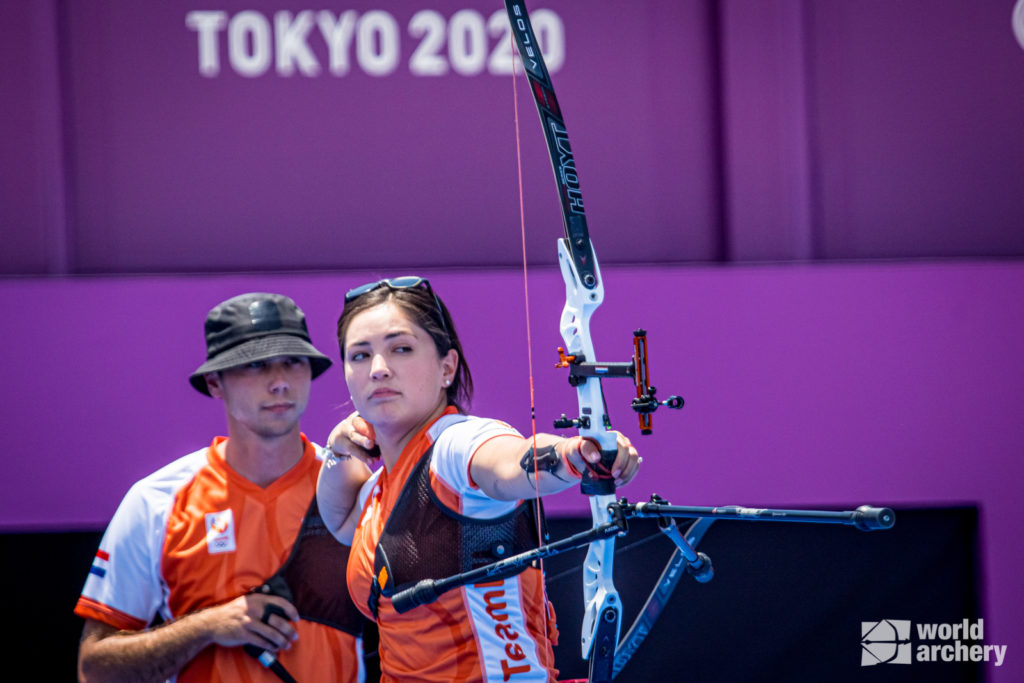 The Dutch duo had a real chance to beat Korean opponents An San and Kim Je Deok. The match was competitive throughout.
The Netherlands won the first set but then lost the subsequent two – shooting a 39 in the fourth, with a chance to force the tiebreak.
Korea held strong and, buoyed by two 10s from Je Deok, produced a matching score to split the points and take the gold medal, 5-3.
It is a deserved silver medal for the Dutch who were, undoubtedly, one of the top two teams on the field today in the Japanese capital.
The Netherlands had only won a single Olympic medal – a bronze in 2000 – since archery's return to the Games in 1972. This second-place finish brings the second podium and best result in history for the promising nation, with still three opportunities (men's team, plus both individual events) to record a result in Tokyo.
Final Podium:
KOREA (AN San, KIM Je Deok)
NETHERLANDS (SCHLOESSER Gabriela, WIJLER Steve)
MEXICO (VALENCIA Alejandra, ALVAREZ Luis)
Competition continues at the Tokyo 2020 Olympic Games with women's team day on Sunday.
Read also the article about the victory of Korea in MixedTeam event.
—
by World Archery