Halfway from the 2022 Hyundai Archery World Cup after the second stage in Gwangju (KOR).
Another leg with great results and records.
Mike Schloesser won his second consecutive circuit stage and Kim Yunhee made history, becoming the first Korean woman to win a blue-riband event on home soil, at the second stage of the Hyundai Archery World Cup in Gwangju on Saturday.
Schloesser converted a fifth consecutive top seed on the tour to a second-straight and eight total stage win.
This one stage win feels even more special than the first one. With the conditions we had here today I felt like I really mastered my shooting and the conditions. My gold medal match was a bit better than the semifinals and I could control it a bit better, I felt really comfortable.
Given the challenging wind, the 28-year-old delivered two exceptional matches in the arena.
He stayed ahead of the USA's Steve Marsh in his semifinal, only letting one arrow fly wild – into the seven – under strong gusts. And then in the final, against India's Mohan Ramswaroop Bhardwaj, Mister Perfect dropped just one arrow, his first, out of the middle, to win, 149-141.
My guessing with the wind here is really different than at home. I worked hard on it, went to the practice range a couple of times. I felt like I worked hard on it, worked on my shot process and that's really showed.
Schloesser had already confirmed his ticket to the Hyundai Archery World Cup Final in Tlaxcala later this year with his Antalya stage win last month. He enters that event as a top contender, the back-to-back defending champion and a three-time winner of the circuit.
The bronze medal went to Steve Marsh from the USA who beat reigning World Champion, Austria's Nico Wiener, 145-141.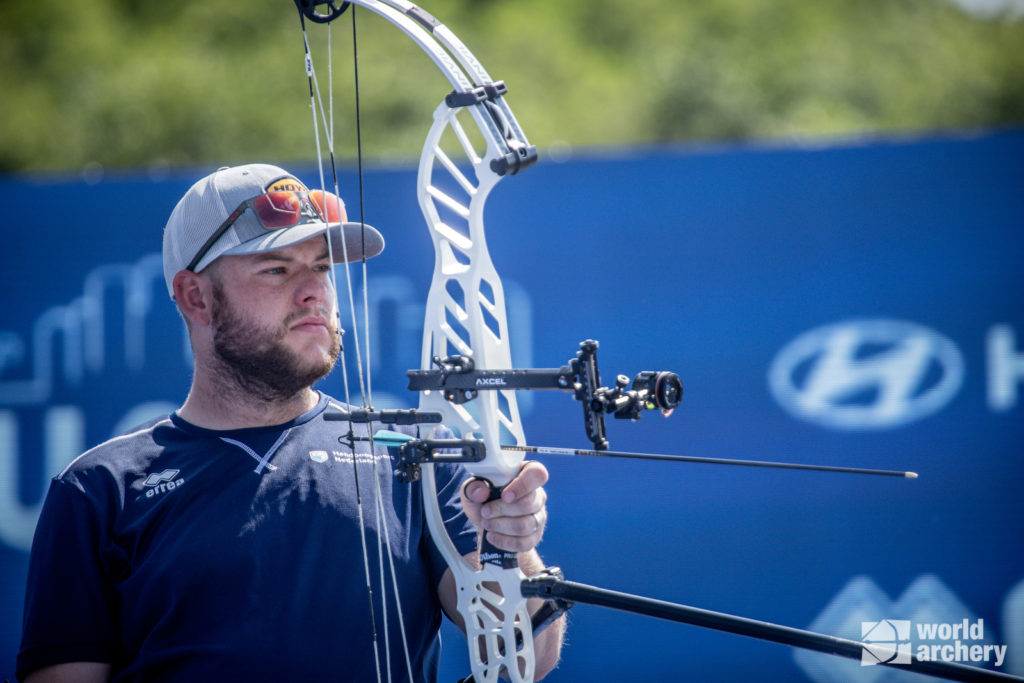 Kim Yunhee's title – the first for a Korean archer at this level of event on home soil – came by way of a defeat of Spanish youngster Andrea Muñoz, 144-140. It was her second gold of the day after a compound women's team victory in the morning.
Muñoz made her circuit debut in Antalya last month – and has been amassing notoriety back in Spain for her steadily improving level.
I am very happy. I did not expect it, I did my job and it went well.
she said after collecting silver.
Things did not go so well for Estonia's Lisell Jaatma.
The Estonian archer had three chances to clinch a gold medal on Saturday, first appearing in the compound women's team and compound mixed team finals – but losing both. Individually, she then finished fourth after struggling in the wind against Dafne Quintero, who took a three-point win, 141-138, to take bronze at her very first stage of the Hyundai Archery World Cup.
It has not been my day today, I felt very tired after the whole week. It is hard to shoot three medal matches in one day but I am still happy. Fourth place is good for me.
said Jaatma, who is now in a very strong position in the circuit rankings.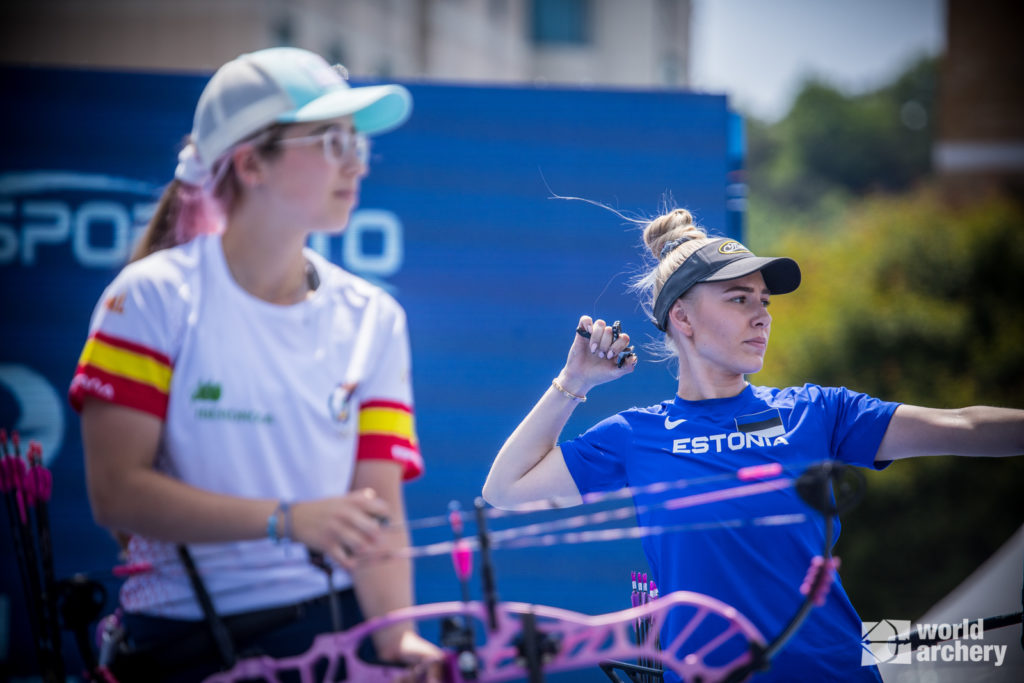 Final ranking: Compound men
Mike Schloesser (NED)
Mohan Ramswaroop Bhardwaj (IND)
Steve Marsh (USA)
Final ranking: Compound women
Kim Yunhee (KOR)
Andrea Muñoz (ESP)
Dafne Quintero (MEX)
Final ranking: Compound men's team
India
France: Quentin Baraer, Jean Philippe Boulch, Adrien Gontier
Korea
Final ranking: Compound women's team
Korea
Estonia: Lisell Jaatma, Meeri-Marita Paas, Maris Tetsmann
India
Final ranking: Compound mixed team
Chinese Taipei
Estonia: Lisell Jaatma, Robin Jaatma
India
—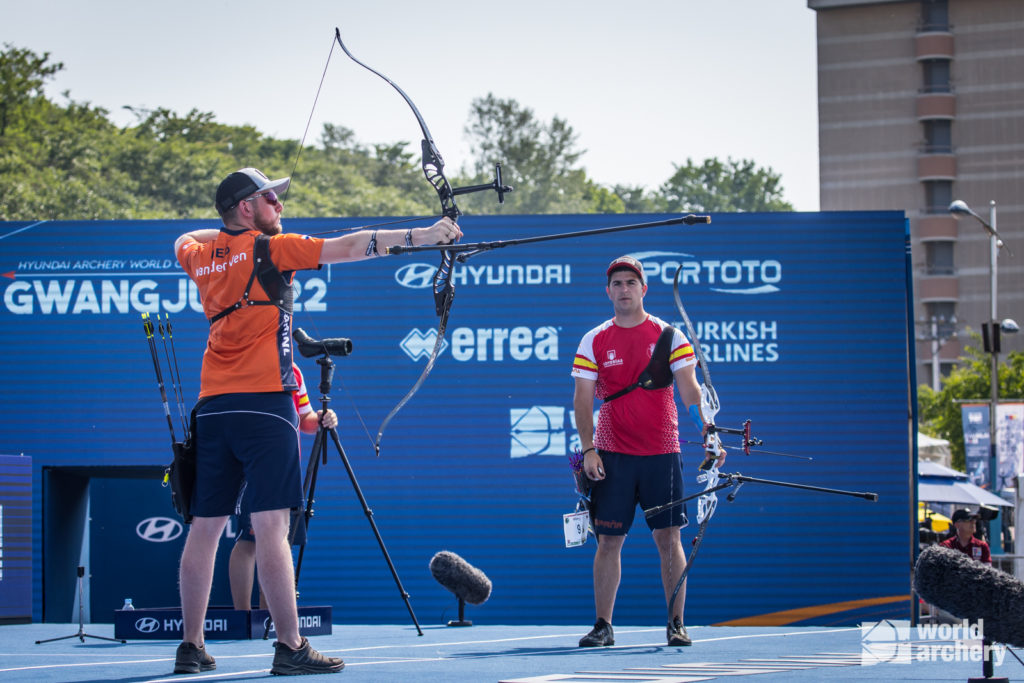 The men's team made up of Kim Woojin, Kim Je Deok and Lee Woo Seok swept the gold showing an even greater performance as they beat Italy's Mauro Nespoli, Alessandro Paoli and David Pasqualucci in straight sets, 6-0. Like the German women's team, it was Italy's men's second, successive World Cup silver.
Spain's men won bronze medals.
In the mixed teams' final, Germany and the USA created an intense and exciting show.
Katharina Bauer and Felix Wieser trailed 3-1 to Brady Ellison and Casey Kaufhold after the second set, but they could not close the match in the third set allowing the opponents to fight back.
And the Germans did, taking the next two sets to win 5-3.
It feels awesome. We are really happy. We are such a good team. We also practice together at home so winning it with Felix feels like a little dream coming true. It's definitely a boost of confidence. We are really looking forward to the European Championships in Munich, it's our home event.
said Bauer.
The German duo show two 10s with their last two arrows and the USA needed to match them to maintain their chance and force a tie-break, but they could only shoot two 9s.
It was an interesting feeling, we had to keep calm and when Brady shot his nine we [knew] we did it. It was difficult to keep calm, focussed and stay a good sportsman.
explained Wieser about watching those two shots from his opponents.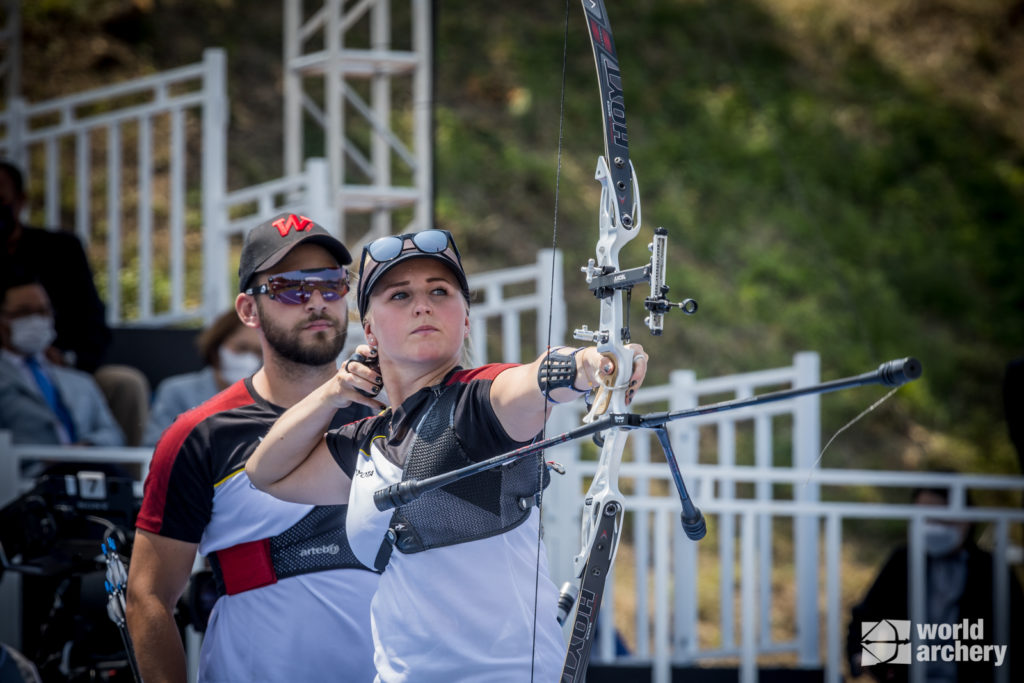 The Dutch team of Gaby Schloesser and Rick van der Ven won bronze after seeing off the tough Canadian pair of Stephanie Barrett and Eric Peters, 5-3.
Final ranking: Recurve men
Kim Woojin (KOR)
Lee Woo Seok (KOR)
Miguel Alvarino Garcia (ESP)
Final ranking: Recurve women
Choi Misun (KOR)
Lee Gahyun (KOR)
Chiu Yi-Ching (Chinese Taipei)
Final ranking: Recurve men's team
Korea
Italy: Mauro Nespoli, Alessandro Paoli, David Pasqualucci
Spain: Pablo Acha, Miguel Alvarino Garcia, Daniel Castro
Final ranking: Recurve women's team
Korea
Germany: Katharina Bauer, Michelle Kroppen, Charline Schwarz
India
Final ranking: Recurve mixed team
Germany: Katharina Bauer, Felix Wieser
United States of America
Netherlands: Gaby Schloesser, Rick van der Ven
—
Article and pics by World Archery