Second youth event of the season is over in Lilleshall (GBR), with the new European Champions 2022.
At the end of the 5-day competition, once again is Turkiye the leader of the final medal standings winning 14 medals total (8 gold, 4 silver and 2 bronze) in front of host-nation Great Britain (7 medals) and Italy (7 medals but less gold).
The new European Champions were crowned in the beautiful and iconic final venue of Lilleshall House & Garden at the National Sports Centre.
Individual
Recurve U18: Amelie CORDEAU (FRA) and Berkay AKKOYUN (TUR)
Compound U18: Hallie BOULTON (GBR) and Eren KIRCA (TUR)
Recurve U21: Ezgi BASARAN (TUR) and Monty ORTON (GBR)
Compound U21: Hazal BURU (TUR) and Yakup YILDIZ (TUR)
Teams
Recurve U18: TURKIYE (Akkoyun, Ozdemir, Tek) and UKRAINE (Fadieieva, Koval, Zvierieva)
Compound U18: TURKIYE (Arslan, Eryilmaz, Kirca) and TURKIYE (Kose, Yuksel, Yuva)
Recurve U21: GREAT BRITAIN (Medhurst, Orton, Woodgate) and GREAT BRITAIN (Costall, Healey, Piper)
Compound U21: DENMARK (Berg, Bjarnarson, Fullerton) and ITALY (Bazzichetto, Moccia, Serafini)
Mixedteam
Recurve U18: UKRAINE (Koval, Ilyin)
Compound U18: CROATIA (Medimurec, Curic)
Recurve U21: SPAIN (Fernandez Infante, Temino)
Compound U21: ITALY (Moccia, Covre)
Together with the 2022 European Youth Cup Circuit final rankings also Team Manager and Coaches of the Year were awarded.
Ms. Frederique MUSY is the "Team Manager of the Year", and this event was her last event.
Ms. Musy in the past was also member of the World Archery Europe Youth Development Committee.
Jerome AURAIX and Gilles TOPANDE-MAKOMBO are appointed "Coaches of the Year".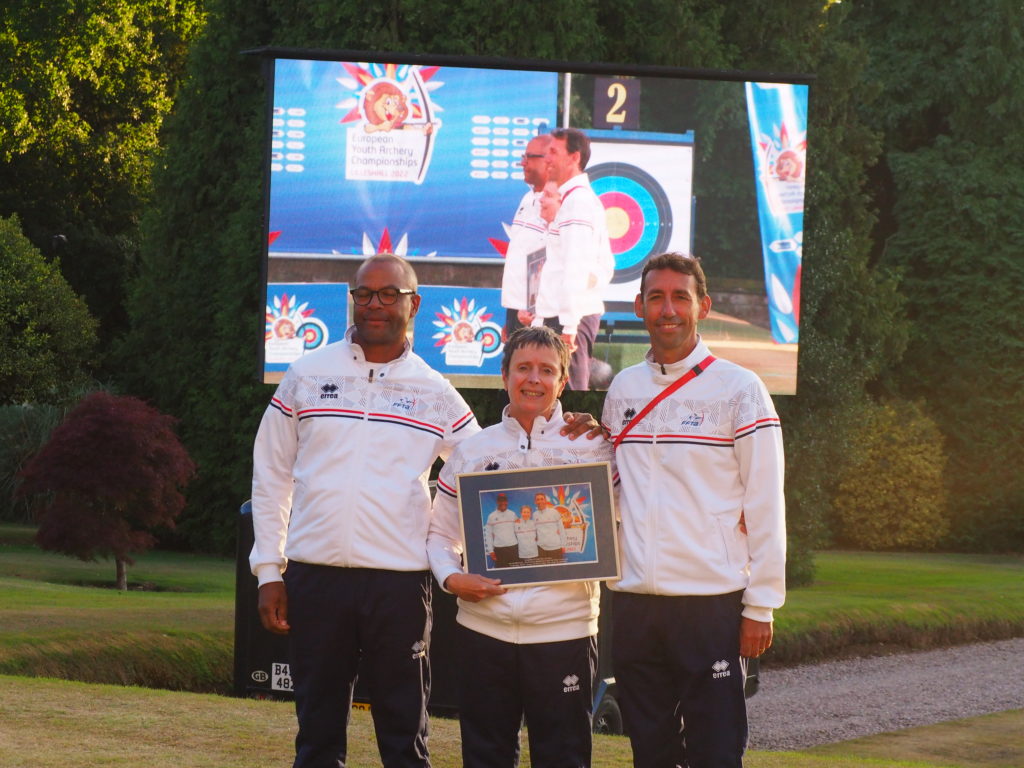 The next European event will be the Para-Archery Cup Finals again in Great Britain, in Nottingham, on September 14-15.